14 Non-Traditional Bridal Nail Polish Colors To Consider That Aren't Blush
Imaxtree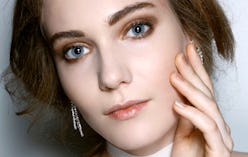 After months securing your venue, finalizing seating charts, and finding The Dress, your wedding nail polish color might be low on your list of wedding day priorities. But trust: finding a shade that'll translate from day to night can be just as stress-inducing as selecting fonts for your invites — especially if you plan on deviating from the norm.
Even though blush and white tones are the most commonly selected shades for wedding day manis, nail artists and salons that specialize in bridal manicures are seeing a shift away from traditional shades. "Translucent and opaque nudes have been really popular in recent months for bridal nails," celebrity manicurist Thuy Nguyen tells TZR. "Mixing colors to find the right shade in the realms of different pinks, peaches, and tans helps during this process to find the perfect shade for the bride's complexion." But with any shade, it's always important to remember to test out the shades you're leaning towards. See how it looks in daylight and in the evening to ensure it's a match for your complexion.
If nudes and neutral nails aren't in the plans for your wedding day, it's not against the rules to go for something colorful. In fact, it's encouraged. "We're seeing a lot of brides that want to match the overall color scheme of their wedding," Lauren Dunne, co-founder of Varnish Lane, tells TZR. "It's really common to see brides use a blue polish on their nails as their something blue!" Dunne also notes that lavender shades are also among favorites with brides that are heading away towards whites and blushes.
On the complete opposite side of the shade spectrum, Candice Idehen, owner of Bed of Nails in New York City, has brides that opt for intricate designs with bold colors for their weddings. "I had a bride choose black, red and white shades. Her nails were white, but we incorporated black and white marble with accents of red and gold foil."
No matter if you're looking for a neutral, colored, or bold shade for your nails, remember that it's your day, and your hue should be one that you look and feel happily ever after in. See 14 pro-approved suggestions below.
Something Blue
Lavender
Pinks & Peaches
Shiny
Bold Red
Sheer & Nude