Statement Belts Are Popping Up Everywhere & You Need These 14 New Styles ASAP
Moda Operandi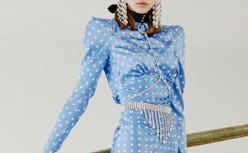 For being such an unassuming accessory, belts can carry a lot of weight in an ensemble. The easy piece has the power to transform the silhouette of a dress, add just the right amount of color to a neutral outfit, or pull an entire look together. And with that in mind, there's no denying it: Belts are a must-have in any fashion lover's closet. You probably already own a fair share of classic black, brown, or even white belts in your wardrobe. But if you want to kick it up a notch, designers have been coming out with a ton of new statement belts, and these will easily convince you to add one (or more) into your summer wardrobe.
There's something about adding the small (or in some cases, not-so-small) adornment to your ensembles that will provide an extra flair. Like any other accessory, such as shoes or handbags, belts can make a major impact in a matter of seconds. But when you combine that with an eye-catching quality such as sparkling crystals or a graphic print, your already-stylish clothes will evolve into pieces that are simply stunning. Plus, no matter how statement-worthy they may be, you'll be surprised at how seamlessly they'll go with your wardrobe.
When it comes to making a statement with your belt, why not literally go big? Lately, more and more brands have been creating wide, corset-style belts such as Miu Miu's Prince of Wales Checked Wool-Blend Corset Belt, $745. Wear them over everything from effortless dresses to T-shirts to give your outfits a vintage-inspired detail. Not only will they give a new silhouette to your clothes, but if they're made of leather (like Kiki De Montparnasse's $395 Leather Cincher) they'll also give a cool edge to your looks.
If you want something a little more understated that still has a tough appeal, opt for a chain belt. Wear the $110 Tortoiseshell Resin Belt from STAUD with everything from a pair of jeans to a satin slip dress. Another chic option is Black & Brown's Silver-Tone Belt, $100, which fully brings back the chain link trend.
Of course, you can't forget the crystal belts — the true showstoppers of this statement piece. For those who are just getting into the trend, start by dressing up a vintage-inspired graphic tee and relaxed jeans with B-Low The Belt's Farah Belt, $158. Finally, nothing will turn heads quite like Alessandra Riche's $970 Fringe Crystal-Embellished Belt, which is guaranteed to transform any look.
Scroll down to see more statement belts to add into your wardrobe, below.