The RealReal's Sale Section Is Full Of Chic (& Affordable) Baguette Purses Right Now
Saira MacLeod/Shutterstock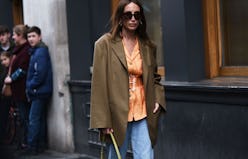 When Carrie Bradshaw began carrying her Fendi Baguette bag on Sex and the City after its creation in 1997, it quickly became an icon in the world of purses — no easy feat, considering the constant barrage of bags hitting the market. Since then, the bag has been transformed into many different iterations for the brand — and the baguette shape has gone on to become its very own purse style that's been replicated by seemingly every other brand on the planet. Its popularity waned once the excitement died down and the world moved through the mid-2000s, but now that the style is more than 20 years old and the '90s are having a comeback, its popularity has exploded once again. And while there are plenty of chances for you to spring for a new, expensive option, The RealReal's sale is basically a treasure trove of cheap baguette purses for you to snag instead right now.
If you've never shopped through The RealReal's sale section, you're in for a treat. It's true that the entire site is full of hidden gems, but the discounted pieces hiding in this relatively unknown part of the site are a sight to behold. There are admittedly a lot of amazing options that still run into the high hundreds, but there's also a shocking amount of baguette purses from fashion-girl favorite brands for well under $100.
In typical The RealReal fashion, there aren't really any bad options. However, there are definitely a few standouts to take note of.
First up: This brown Salvatore Ferragamo bag, which is sleek enough to wear on an evening out or to take your jeans-and-tee outfit to a new level. Its price was essentially slashed in half, so you can throw it in your cart for $97.50 and try to hold back your tears over the fact that there's only one available.
Green is clearly having a moment in fashion, and The RealReal took note of the trend. The sale section has two great baguette bags in the hue: a suede style in kermit green from Bottega Veneta for $87.50, and a $66.50 mint green leather Escada bag.
And it goes on. The options are basically endless, but the 14 purses ahead are definitely worth taking a look at. Don't be surprised if every last one ends up in your cart.