13 Gifts For Dads Who Want Nothing, Because You Should Probably Still Get Them Something
Food52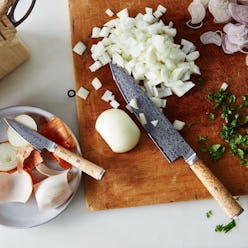 Can you think of a time when you've asked your dad for his wishlist and he's actually responded with what he wants? You probably can't, because it seems like dads never want anything when the holidays roll around. Which means when it comes time to shop for them, you probably don't have any clues to work with at all. The thing is though, when you roll up to the family gathering with presents for everyone in attendance, you probably don't want to just skip your dad (even if he told you to). So instead, you're left searching for gifts for the dad who wants nothing, a fruitless, disheartening endeavor that'll likely end up with you wrapping a pair of socks for the seventh year in a row. If you're ready to break that cycle, though, good news: There are gifts out there that your dad will appreciate — you just have to know what to look for.
Finding a gift for the father without a wishlist takes a little creativity, but it's definitely possible to get him something he'll appreciate. The secret? Look to his everyday activities (and maybe ask your other parent what your dad needs, too). It also helps if you can personalize the gift in some way, because he's bound to love something more if he knows you put some thought into it.
A great example? The World Class Tech Case from STOW for $600. It's the ideal gift for any dad who has too many electronics to keep track of, and it comes in a perfectly simple design that's timeless enough for anyone to feel comfortable carrying it. Plus, you can customize it with his initials, or even add an embossed handwritten message so he'll think of you every time he uses it.
If your dad doesn't even own a phone, though, there are plenty of non-tech gifts for him, too. Whether he's constantly mixing up new drinks or just likes to try something new every now and then, give him the ultra-luxe bottle of Grand Marnier Quintessence for $926, which is a limited-release blend of Grande Fine Champagne XO cognacs with the brand's essence of orange parfum. It's another present you can get personalized, too, so add an engraving to it to make it truly one-of-a-kind.
Sometimes, your dad just needs a wardrobe update — but if he shudders at the thought of being styled by anyone but himself, it's best to stick to classic pieces that could fit into almost any closet. The $399 Barbour Ashby Wax Jacket is a foolproof option — it's simple enough to go with everything, and it'll never go out of style. Add some nice, high-quality gloves to the mix with Louis Vuitton's $780 Louis Gloves; they come in black leather and are perfectly understated.
Have a dad that lives to entertain? He's probably been eyeing a Kamado Joe grill already, so why not go all out for him with the Big Joe II for $1,899, which is large enough to hold three full racks of ribs. And if he already owns one or doesn't live somewhere he can own a grill, opt for something simpler, like the super sharp Miyabi Birchwood Damascus Knife Set With Block Shears for $1,199.
If you're absolutely lost on what to buy dear old dad for the holidays, stop stressing. Ahead, 13 gifts even the dad who wants nothing will love.