12 Tom Ford Nail Polishes To Try When You Want Fancy Fingertips
Tom Ford Beauty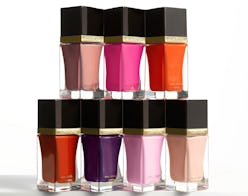 With nail polish brands releasing capsule collection after capsule collection, Tom Ford nail polishes (formally known as Tom Ford Nail Lacquer, thank you very much) remain core to its luxurious roots. It's no secret why manicurists and mani-loving fans are always drawn to the brand's selection: The formula is rich and non-sticky, the polishes make you feel even richer, and there's a plethora of color selections for every vibe.
"I love its viscosity! [Ford's] polishes go on very sleek and smooth, not leaving any streaks. They're lusciously pigmented, too" Sarah Chue, a celebrity manicurist who works with Tiffany Haddish and Amy Poehler, tells The Zoe Report.
And Karen Gutierrez, a celebrity nail stylist who works with Sofia Vergara, sings those same praises. "Their selection of shades are impeccable — the colors are unique and chic, and the pigments on these shades are rich in color," she notes. "They've done an amazing job of creating shades for every skin tone and colors that look great on every skin tone, too. It's truly worth the price and splurge."
Let's not forget the fact that they look as good as they wear, too. "The rectangular glass bottles of polishes make it feel that much more of a product!" Chue adds. Because, let's be real... your nail selfie clout will jump a couple of points if you're grasping one of those coveted bottles.
See the best of the best, ahead.
Fair Skin
Medium & Olive Skin
Dark Skin
Deep Skin