12 Cult Halloween Movies You Can Stream (If You Want To Skip The Costume Parties)
Getty Images / Handout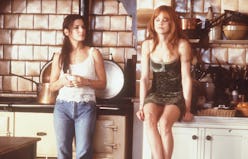 For the first decade or so of a child's life, Halloween night is permanently booked with standing plans to dress up and run around the neighborhood collecting candy. Once one reaches adulthood, however, the holiday's festivities become less defined, and evenings spent bingeing cult Halloween films while nursing a glass of wine and pizza become more and more appealing.
While dressing up and going the traditional costume party route is also a worthy option, the appeal of settling down on the couch and indulging in a restful evening is not lost on, well, anyone. And, with a plethora of streaming services offering some of the best and brightest in Halloween cinema, the urge to hibernate gets even stronger.
Yes, it appears streaming subscription services like Netflix, Amazon Prime, Hulu, HBO Now, STARZ, and Shudder (obviously) are all bringing the All Hallows' Eve vibes with their seasonal lineups of cult movies — and there's a little bit of something for everyone. Whether you're a rom-com enthusiast, in the mood for a laugh, or ready for a good old-fashioned scare (emphasis on the old-fashioned), there's a cult film at the ready.
Ahead, check out 12 classic movies that deliver a heaping dose of Halloween — and nostalgia, to boot. (Disclaimer: Some obvious contenders — mainly Hocus Pocus and Beetlejuice— were left off this list due to the fact that they are not included within a subscription service and require an added fee. By all means, watch them anyway.)
'Ghostbusters' (1984)
Subscription service: Amazon Prime Video
If you ain't afraid of no ghost, this '80s gem is for you. It doesn't get much better than Dan Akroyd, Bill Murray, and Sigourney Weaver hunting down the supernatural for cash.
'Halloween' (1978)
Subscription service: Shudder
If Halloween films had a Hall of Fame, this thriller would be inducted for sure. The OG horror flick (starring teen dream Jamie Lee Curtis) was a first scare for many, and the masked Michael Myers is one of the most iconic villains in movie history, so why not indulge in a little fright night (with the lights on, of course)?
'Scream' (1996)
Subscription service: STARZ
While designed to recapture the thrill of the chase of past horror movies, this cult '90s picture is a bit more campy than it is frightening. That said, it still delivers the fun, so it's worth a watch, especially if you want to catch icons Drew Barrymore and Neve Campbell in action.
'The Blair Witch Project' (1999)
Subscription service: Amazon Prime Video
Raise your hand if you thought this was an actual documentary at first watch. Well, now that everyone knows it's definitely fiction, feel free to watch it without fear that a little pile of twigs will magically appear on your doorstep.
'Tim Burton's Corpse Bride' (2005)
Subscription service: HBO NOW
Tim Burton is basically to Halloween what Dick Clark was to New Year's Eve, so any film with his name on it is bound to be a seasonal classic — this fantastical film being one of the most recent (despite being made 13 years ago).
'The Others' (2001)
Subscription service: Hulu
If you almost forgot about this incredibly spooky flick starring one very engaging Nicole Kidman (who plays a single mother inhabiting a haunted house), it's a good thing you were just reminded of it. This is another one to watch with all the lights on.
'Practical Magic' (1998)
Subscription service: HBO NOW
If you're more of the romantic comedy persuasion, fear not. This whimsical, girl-powered cult classic starring the aforementioned Kidman and Sandra Bullock is about as enchanting as it gets. For those not in the know (shame on you), the two actresses play sister witches — the good kind — fighting off a bad spirit in the shape of an ex-boyfriend. Enough said.
'E.T. the Extra-Terrestrial' (1982)
Subscription service: Amazon Prime Video
When isn't it a good time to watch this movie? You don't have to be an alien-enthusiast to fall in love with little E.T. — so why not do it all over again on Halloween?
'Young Frankenstein' (1974)
Subscription service: STARZ
Film buffs are all over this black-and-white piece of classic comedy perfection. Mel Brooks' take on the Mary Shelley novel is nothing but the best 105 minutes you can spend in front of a screen. (Shout out to Marty Feldman's Igor for stealing the show.)
'Tim Burton's The Nightmare Before Christmas' (1993)
Subscription service: Hulu
Jack Skellington needs no introduction. It isn't Halloween (or the holidays, for that matter) if you don't watch this film at least once.
'Psycho' (1960)
Subscription service: Shudder
Everyone is well aware of the infamous shower scene in this '60s horror staple, even if they never watched the film to its entirety. Do your due diligence and watch the Alfred Hitchcock masterpiece from start to finish — it's still about as creepy and disturbing as it gets.
'Jaws' (1975)
Subscription service: Amazon Prime Video
This shark-infested cult flick is so good, it kept many out of beach waters for years. You've been warned.