Fashion Week Is Here, So Keep An Eye Out For These Street Style Trendsetters
Shutterstock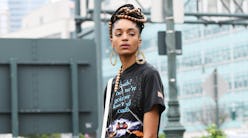 Back in 2005, Scott Schuman began taking photographs of men and women in the streets of New York who's style he considered interesting or inspiring. That, as you all know, was the start of The Sartorialist, which sparked a street style movement for many young photographers who had a knack for spotting the coolest fashion trendsetters and documenting their "street style," a.k.a their everyday wears. Of course, Schuman wasn't the first to identify the need for this type of societal documentation, there were others before his time like Bill Cunningham and even Vivian Maier but the kind of street style as it's known today arguably started around 15 years ago.
Since then, this pocket of the industry has flourished with other photographers like Tommy Ton, Phil Oh, Adam Katz Sinding and many, many more entering the scene. The focus began to narrow in on what individuals were wearing getting to and from shows during the various fashion weeks and those who used to be mysterious figures at the heads of iconic publications (yes, Anna Wintour) were suddenly thrust in front of a camera and their outfits shared for all the world to see.
Suffice it to say, street style has drastically changed the industry as have the characters involved. Though there is a long list of mainstays that reliably inspire (Emmanuelle Alt, Susie Bubble, Tamu McPherson) it's not a bad idea to point the lens toward women who are a bit more under the radar in the street style scene and thus offer a different perspective. Ahead, 12 women who do just that.
Reese and Molly Blutstein
Every photograph of these Atlanta-based twins feels like a still from a Sophia Coppola film. Their intense gazes combined with unapologetically splashy style choices make for a street style duo not to be reckoned with. Plus, who doesn't relish in a little sisterly love?
Follow: @double3xposure and @accidentalinfluencer
Indira Scott
Having walked in influential shows last season like Oscar de la Renta, Christian Dior, and Ralph Lauren it's no surprise this up-and-coming model is causing buzz not only for her striking looks but also for her covetable personal style, which nods toward a cool biker chick meets eccentric artist aesthetic.
Follow: @inscotts
Varsha Thapa
Varsha Thapa is like that cool girl that comes up in every "1970s Style" Google search you've ever typed in. She has long straight hair, a stunning olive complexion (she's Nepalese, Mongolian, Siberian, and Native American), and a non-conformist type of style that feels especially refreshing (flared denim, an earthy color palette, and plenty of suede).
Follow: @varshathapa
Chloe King
The Webster's Digital Director, unsurprisingly, has crazy inspiring personal style and though she's been on the scene for several years now she's still one that never ceases to surprise (and delight) when it comes to outfit inspiration during fashion week.
Follow: @chloe4dayz
Paloma Elsesser
This New York-based model is the kind of person who can pull off literally any trend and make it look effortless. Bucket hats, camouflage, chain belts, patent leather, futuristic sunglasses — she never misses the mark.
Follow: @palomija
Alyssa Coscarelli
Do you like cute, inventive outfit ideas that will make you say Why didn't I think of that before? If the answer is yes, then you'll probably want to keep an eye on Alyssa Coscarelli. Her down-to-earth take on fashion trends combined with an eye for under-the-radar brands is the perfect antidote to a wardrobe rut.
Follow: @alyssainthecity
Adesuwa Aighewi
Ushering in a new era of model off duty style, Adesuwa Aighewi brings a fresh perspective to the table by way of unexpected accessories, lively colors and patterns, and a slightly-insouciant attitude that makes getting dressed up all the more fun—as it should be.
Follow: @adesuwa
Aleali May
Aleali May feels like a super cool person from the future that's been sent back to give us all outfit inspiration. She employs offbeat pops of color as well as striking accessories and sleek silhouettes to create a look that's all her own—and it totally works.
Follow: @alealimay
Rachael Wang
This über-chic stylist is likely already on your radar thanks to her inspiring editorial work and recent street style photos from fashion weeks past, however in the scheme of things she's still relatively low key on the scene, which is more than enough cause to home in on her outfit choices this season and take note.
Follow: @rachaelwangstyle
Laura Stoloff
If you gravitate toward a minimalist, Philo-inspired aesthetic then bookmark this WSJ senior editor's personal style for everyday elevated looks you can recreate with your own wardrobe.
Follow: @laurastoloff
Gabby and Danielle Prescod
What's this? Another sister-sister duo? Indeed. Unlike the aforementioned Blutstein twins, the Prescod sisters have somewhat contrasting personal vibes — one more sweet and soft, the other more sporty and contemporary — but they both share one common attribute, which is that they're very, very cute.
Follow: @danielleprescod and @gabbyprescod
Jessica Minkoff
Bergdorf Goodman's Fashion Content Editor offers a cool, approachable take on styling designer pieces for everyday life. Take note!
Follow: @jessicaminkoff