12 Comfortable New Year's Eve Shoes That Are Still Worthy Of Your Best Dress
Edward Berthelot /Getty Images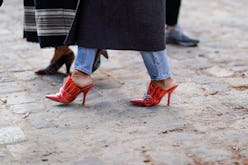 Whether you're stepping out to an over-the-top party or keeping things a little more low-key at your favorite local spot, it's likely you're looking forward to getting at least a little dressed up to say goodbye to 2018 and welcome a shiny new year. And as fun as it is to gather with friends and family to dance, sing, and toast to 2019, there's one minor detail that stands in the way of your good time: your choice in footwear. When you slip into your sequined mini dress or metallic jumpsuit, you may be tempted to reach for a pair of sky high heels — but don't bother, because there are actually comfortable New Year's Eve shoes out there that'll help you start the new year with your best foot forward.
Your New Year's Eve outfit is an all-important one, because it's setting the tone for a whole new year. As such, you're probably putting together a look thats sparkly, festive, and statement-making so you can start 2019 off feeling fashionable. But before you subject your feet to yet another night of strained arches and pinched shoes, consider slipping your feet into something a little more comfortable — yet no less chic. This season there's a wealth of bold, party-appropriate footwear that are missing the teetering heels that cause you a world of hurt but don't fall down when it comes to style.
Having trouble with the thought of trading in your favorite stilettos, because you can't quite determine what to choose instead? Consider not just your outfit, but also the venue. Headed to an end-of-year bash at your best friend's place? Opt for an embellished iteration of one of your go-to styles, like a pair of $128 sparkly mules from Madewell or some sequined sneakers.
But if your night is shaping to be a little more elevated, like an evening at a fancy hotel or a top-notch restaurant, choose a pair of shoes that are still super polished and pretty (minus the five-inch incline). These $175 PVC flats have a twinkly embellished toe so they feel anything but basic — so you'll still feel dressed to the nines from top to bottom. Or, grab a pair of bold booties with a low heel, like this hot pink Alexandre Birman pair for $595. They pair as easily with a mini dress as your platform pumps and won't have you filled with regret by hour three of dancing.
As it turns out, there's a pain-free style for every sparkly outfit and any destination this New Year's Eve, so you can party the night away with zero consequences for your feet (your head after too many champagne toasts, however, is another story). If you're still not convinced that party-ready shoes can also be comfortable, keep scrolling to see more proof.
Flats
Kitten Heels
Mules
Low Boots