You Can Buy Kristen Bell's Red Carpet Fragrance At Whole Foods
Todd Williamson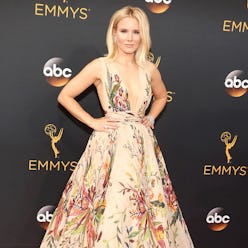 During red carpet interviews, celebrities often dish on their latest project and details about their out for the night. Very rarely do A-listers discuss anything beauty related on red carpets, unless they've debuted a drastic change. Luckily for us, that wasn't the case during the 2016 Emmys red carpet. Kristen Bell revealed a secret about her fragrance of choice that might convince us to go out and buy it.
During live coverage of tonight's arrivals, Giuliana Rancic complimented the actress on her scent. Kristen revealed she was wearing amber oil and she buys it at Whole Foods. Amber oil is great for its anti-aging benefits, and refreshing your skin or hair follicles.
The best part about her signature scent is that it only costs $9 a bottle. Next time you visit your nearest Whole Foods, be sure to check out their selection of oils and see if you can find your new go-to scent.