All The New Bags At Moda Operandi That Are About To Take Over Your Instagram
Moda Operandi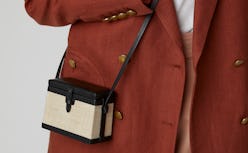 Whether you consider yourself to be an accessories person or not, it goes without saying that a stylish handbag is essential to anyone's closet. After all, not only is a bag practical for carrying your everyday essentials, but it can also change your ensemble in a matter of seconds. If you happen to be looking for a new purse to add to your collection, a bunch of Pre-Fall 2019 bags have just landed at Moda Operandi — and without a doubt, you're about to see these styles everywhere.
In an era where Instagram reigns supreme as the destination to discover new trends and designers, it's also become the place to share your wardrobe's newest additions. And if you want a peek into what's about to fill everyone's feed — including your own — look no further than Moda Operandi's latest Pre-Fall 2019 arrivals. Chances are you already know Moda Operandi for its Trunkshows. And as it keeps a finger on the pulse of the latest pieces from designers, it comes as no surprise that the luxury retailer also knows what bag trends are about to be huge.
Perhaps you already studied up on which fall bag trends you'll be wearing as soon as September hits, but just in case you need a refresher, Moda Operandi has a full range to choose from. Whether you want something that's sleek and classic or a style that feels more unexpected and trendy, you'll find just what you're looking for here.
When you're in the mood for a bag that feels truly Instagram-friendly, reach for something unexpected, like the Rejina Pyo Olivia Croc-Effect Leather Bag, $685. Not only will its shape instantly grab anyone's attention, but it also takes on the crocodile-print trend in a bright white hue. Another unique option is the $350 Astraea Mini Leather Tote from Cult Gaia. While its unconventional silhouette feels like a statement, the caramel-brown leather makes it perfect for everyday occasions.
Though these chic and trendy bags are certainly worthy of an Instagram, you can't ignore the timeless options among Moda Operandi's selection, either. Rylan's $390 Velvet Shoulder Bag — which feels subtly vintage-inspired — will become a staple among your wardrobe from now through winter. If you want something that feels current and classic, get yourself the Bobby 23 Mille-Feuille Leather Bag by BOYY, $1,100. The structured purse can be easily incorporated into your work wardrobe.
Give yourself a head start on the latest bag trends and scroll down to see more of the Pre-Fall 2019 bags at Moda Operandi below.