The Best New Black Boots To Get Your Footwear Collection Ready For Fall
Grosescu Alberto Mihai/Shutterstock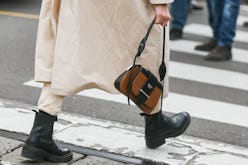 Yes, summer is still in full swing, and it's not time *just* yet to put away your sporty sandals and high-heeled flip-flops. But since the first day of fall is just a little over a month away, it's appropriate to start shopping for footwear — especially the boots you're so excited to put on when the weather turns chilly. And if there's one piece you should start scoping out now, it's a chunky black boot, a style which happens to be flooding the new arrivals sections of retailers everywhere.
The options hitting the market are far from your traditional plain leather bootie — and while chances are you already own a pair or two of big clunky boots, designers and stores have just released styles that are better (and some bigger) than ever. Plus, with silhouettes ranging from combat styles to Chelsea boots, and embellishments including a whole host of fun details, there's something for everyone to choose from.
If your style is a bit grungy, you probably lean toward a combat boot — in which case, you'll love Miu Miu's Leather Boots for $990. Style them with a feminine frock for a perfectly juxtaposed look. Or, if you're looking for an option that's a bit more polished, consider Nicole Saldaña's Carol/Black Boxcalf Leather Boot, $455. Couple the boot with a colorful matching suit or a luxe silk midi skirt and you're ready for a day at the office.
If you're on board with the trendy shoe silhouette and ready to start shopping, keep scrolling for 11 chunky black boots to help you prepare for the fall weather ahead.