Mejuri's Only Sale Of The Year Is Here — These Are The 11 Pieces You Don't Want To Miss
MEJURI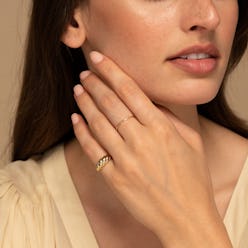 Given the pure volume of sales that were in full force over the last few days, this weekend was likely a shopping whirlwind. But now that Monday is here and you've had a moment to reflect on your purchases, you may have realized there are still some more items on your wishlist. And, if you've yet to snag a few new everyday fine jewelry pieces for the holidays and beyond, you're in luck, as you still have time to shop Mejuri's collection for less. That said, time is ticking away on the deals (yes, there's an actual countdown clock), so you'll want to head over to the site as soon as possible to score the savings.
The final day of the sale is today, Dec. 2, which means there's just hours left to shop Mejuri's range of modern, minimal pieces for less. From now until 11:59 p.m. ET, you can indulge in the discounts Mejuri is serving up, which shakes out as follows: 10 percent off one item, 15 percent off two items, and 20 percent of three items or more. And being that it's the brand's *only* sale of the year, it makes this savings event one you definitely don't want to miss.
If you're not yet familiar with Mejuri, the direct-to-consumer brand offers a range of timeless, fine jewelry pieces without the traditional markup. Within the brand's mix of styles, you'll find everything from delicate necklaces and timeless rings to classic earrings, bracelets, and more.
Jewelry box staples, like this dainty 14-karat yellow gold Diamond Necklace, $285, and this 14-karat yellow gold Thin Dôme Ring, $295, are a great place to begin your shopping. Meanwhile, those in need of a go-to set of high-quality hoop earrings should peek at the $65 Between Hoops. But, if you're keen to bring more pearl-adorned pieces into your lineup, then, the Organic Pearl Hoops in gold vermeil, $70, may be exactly what your collection is missing.
The sale also provides for the perfect opportunity to snag presents (like a zodiac ring or necklace) for your nearest and dearest. So on that note, continue on to shop chic, understated jewelry for yourself and your loved ones before time runs out.