Mejuri's New Jewelry Collection Makes It So Easy To Nail Understated French-Girl Style
Courtesy of Mejuri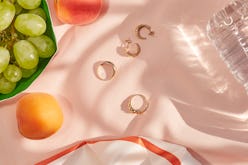 It's no secret that the fashion world has an obsession with French-girl style (and even that is an understatement). Always in search of the aspirational aesthetic so well executed by French women, it seems as though the fashion industry can never get enough. So, whenever there comes a new brand or collection that feels like it has that je ne sais quoi everyone is looking for, it's worth sharing with the masses. And with Mejuri's new Croissant Dôme Collection, you can incorporate a touch of the highly sought-after French-girl style into any of your ensembles with the simple addition of a few pretty pieces.
Inspired by the croissant — one of the biggest icons of French culture — Mejuri's latest collection features earrings, bracelets, and rings that will instantly feel like pieces of heirloom jewelry. And with the sleek and timeless design, they can be worn with everything, whether it's a casual T-shirt and trousers or a cocktail dress.
The new collection boasts a range of styles available in sterling silver and gold vermeil for less than $110, including these simple $65 earrings. It also features two 14k gold pieces (like the $300 Thin Croissant Dôme Pinky Ring) which means there's a piece in this collection that'll fit right into your wardrobe and your budget.
If you're a fan of simple bracelets, you can't go wrong with the collection's bracelet, which costs $105 and will easily become one of your favorite jewelry pieces to wear into the holiday season. Style it with a simple gold chain for a layered look or complete the set with the earrings mentioned earlier and the Croissant Dôme Ring, which is available for $65.
Just in case you prefer fine jewelry, the Thin Croissant Dôme Ring is available for $315 and can be worn on its own for everyday occasions. You can style it with a button-down blouse and a fluted midi skirt for the office or with an effortless dress and denim jacket for the weekend.
Scroll down to shop Mejuri's Croissant Dôme collection below.