11 Halloween Decorations From Target That Are As Cheap As They Are Cute
Target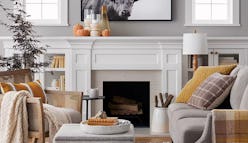 Being that Halloween kicks off the holiday season, you probably don't want to spend all your money on decorations for the one-day event. But if you can't resist the temptation to decorate at least a little bit, there are solutions in the way of cheap (and cute) Halloween decorations under $10 to deck out your home with so you don't have to break the bank to show your holiday spirit. And, of course, you can find them all at Target.
While Halloween décor can definitely err on the cheesy side, there are still plenty of decorations to choose from that will look good in your home. Take, for instance, this small Halloween cloche, which is simple enough to blend into your space and still add a little spookiness (for only $7). You don't have to opt for pieces that scream "spooky", either — an easy swap, like ditching your white candlesticks for an orange pair (like this $3.99 option), will add holiday vibes without being over-the-top.
Target has plenty of options for those with a more rustic style, too. One grapevine pumpkin, which is $10, offers a farm-esque feel to the typical orange option. There are plenty of decorations for the kitchen, too, including dish towels for $5.99 and a pumpkin spoon rest for $4.99.
Decorating for Halloween doesn't have to mean you have to spend hundreds of dollars to cover your home in fake spiderwebs and scarecrows. While there's absolutely nothing wrong with going all out for the holiday, there are also plenty of ways to incorporate some Oct.31-themed pieces into your kitchen, living room, and more for less than $10 (and without compromising your home's style).
For 11 cute Halloween decorations that don't require you to spend a ton of money, keep scrolling for 11 picks from Target or head to the retailer's site for more affordable décor before the end of October.