The 10-Piece Winter Capsule Wardrobe Priyanka Chopra & Bella Hadid's Stylist Swears By
Broadimage/Shutterstock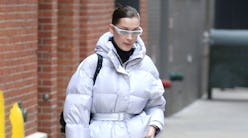 Getting dressed during the winter is an impossibly difficult task as it is, what with the unpleasant elements and chilly temperatures to deal with. There's an natural inclination toward building out your closet in these months, adding more layers and extra insulation — but you'd be doing yourself a favor to take just the opposite approach. Simplifying your cold-weather wardrobe down to a go-to rotation of wardrobe essentials for winter can make your life — or at least getting dressed in the morning — considerably easier. Trust.
If this seems a daunting or undesirable task (editing down is always harder than building out), take a tip from the experts: Celebrity stylist Mimi Cuttrell has a keen understanding of how to put together an ultra-chic winter outfit, whether the overall aesthetic skews more sporty, sophisticated, or trendy. For proof, look no further than her roster of A-list clientele. Cuttrell is fashionable brains behind the looks of such famous trendsetters as Priyanka Chopra, Bella and Gigi Hadid, and Victoria's Secret model Sara Sampaio — all of whom routinely step out in ensembles you immediately want to copy. Here, we've enlisted Cuttrell to share her insight and break down the necessary items for a winter capsule wardrobe.
"My style mantra?! The cozier the better. Always," Cuttrell says. "You can never go wrong with a simple oversized cashmere sweater (The Row has the best!) and your favorite pair of denim. You can pair this with a cool bulky tennis shoe for a casual, relaxed look, or with a heeled boot for a fun, effortless night out."
When it comes to curating items that check both the functional and fashionable boxes, start with your base layers: A cool tee and a turtleneck bodysuit will be versatile foundation pieces. Then, find a pair of soft pants that are comfy but not sloppy looking. A cozy sweater and an on-trend puffer coat are must-have pieces for this year in particular. Finish with a couple pairs of boots and some chic accessories to polish it all off, and you'll be prepped for practically any day-to-day styling situation from November through March. Scroll on to shop Cuttrell's staples that will elevate your looks for this upcoming cold season, and see why she's loving each piece.
A Black Bodysuit
A Luxe Sweater Dress
A Cool Puffer Coat
Leather Combat Boots
A Croc-Embossed Mini Bag
A Long Cashmere Coat
A Slogan Tee for a Good Cause
Elevated Track Pants
Western-Inspired Boots
The Perfect Hoop Earrings