10 Thoughtful Presents That Will Earn You The Title Of Best Gift-Giver This Year
Courtesy of Zahava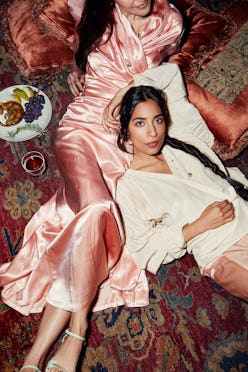 There's no denying that securing the perfect presents for your nearest and dearest can be a stressful business. On top of that, with each passing year it gets trickier and trickier to think of something a loved one doesn't already own. That said, hope is not lost, and if you're still looking for special presents that'll really wow your loved ones, you've come to the right place. Just ahead is a curated edit of thoughtful gift ideas that'll not only help you cross off so many names from your shopping list but also earn you the title of best gift-giver this year — not that anyone is keeping track or anything.
A surefire way to make someone feel special is with a personalized present. And, lucky for you, there are a wide variety of items you can scoop up that'll bring a personalized touch to a gift, such as this astrology-based Birthdate Candle for $48 and this chic set of PJs from Sleeper, $245, that can be embroidered with a monogram or special message. However, if you're shopping for a jewelry-lover, set your sights on Zahava's Mini Golden Atlas for $475. A stunning piece, the timeless necklace can be customized with a gleaming diamond to mark a spot in the world that's special to you and the receiver of this modern heirloom.
You can also make someone feel good (figuratively and literally) with the gift of cashmere. Consider wrapping up this cozy matching tracksuit hoodie, $175, and jogger pant, $175, from Naadam for your best friend or your mom. As for the guys in your life? Tie a big bow around this pair of cashmere-lined, luxe leather gloves, $125, from Aspinal of London.
Of course, gifts that are not only stylish but functional will also garner a big smile when they're opened. The World Class Tech Case from STOW ($585) is the perfect example; the sleek case will help anyone who receives it keep all their chargers, devices, and more in one convenient location in their carry-on. Similarly, this luxurious silk-covered travel pillow and eye mask set from Slip for $119 is a gift that'll have the recipient thinking fondly of you every time they travel.
Continue on to see and shop 10 gifts that'll really show your family and friends how much you care.