I Stole My Mom's Beauty Routine & My Skin Has Never Looked Better
Courtesy of Herbivore Botanicals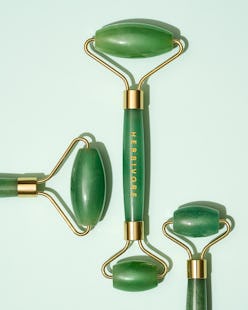 I learned everything I know about skincare from my mom. Don't get me wrong: as a child, I often joked about her frequent trips to the dermatologist, being an apothecary for beauty products and having a multi-step routine so long, that it seemed unnecessary. She couldn't leave the house, even for quick errands, without completing each step (which, I'd argue, is why we were notorious for being late). Now, at 26-years old, I understand why. Over the years, I've since begun to bond with my mom, Suzette, over the latest product launches and cult favorites. But it wasn't until my recent quest for "glass skin" that I tapped into the contents of her medicine cabinet. I uncovered a list of mom-approved beauty products, of all price points, and my skin has never looked better.
I'd like to preface this with the fact that my mom is 53 and has had a well-developed skincare routine since she was in high school. "I remember doing a complete routine before taking my senior year pictures," she tells me during one of our many daily FaceTime calls. "It's quite honestly the best my skin has probably every looked." But just looking at the pictures, you can tell she's being modest, as not much as changed in her appearance between now and then.
Though she credits most of this to "having good genes" (the saying, "Black don't crack" comes to mind, as do ancient Chinese beauty secrets passed down from her mother), her daily lineup is impressive to say the least. Filled with products from heavy-hitters like Cle De Peau and La Mer, the list is definitely balanced out by more affordable products, too. But Skinceutical's C E Ferulic serum priced at $166, per ounce, is what she deems her holy grail. "I've used this serum for more than ten years", she confesses, deeming it the one product that she doesn't want to ever go without.
As I started to integrate some of her go-to products into my own routine (we both have combination skin, so I wasn't too concerned with them not meshing my skin type), I noticed a gradual difference in my skin. It looked a lot less dull, and the dry patches I had inherited from my dad were not nearly as noticeable. While I was one step closer to achieving "flawless" skin, I quickly realized that consistency was absolutely key. Week after week, I used the same routine and my skin had never looked better. The reason that my mom saw so many positive results with her personal skincare routine is because she found a compilation of products early on that worked for her specific needs and stuck with it. That's not to say you can't mix it up every so often, but if it's not broke, don't go trying to fix it.
Meant to be applied lightest to heaviest, my mom's go-to skincare routine has been broken down for you, just ahead.