How To Pull Off This Controversial Shorts Trend Like A New Yorker
@chrissyford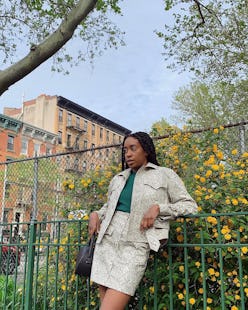 Dining al fresco, jaunts out to Montauk, afternoons in Central Park — summer in New York is what you see in every romcom. But, unplanned thunderstorms and sweltering subways are also the lesser-referenced realities of navigating NYC this time of year. Since any one day in Manhattan may include all of both the good and bad above, the city's residents require a wardrobe that's equal parts stylish and resilient. Worthy of a movie moment (you never know which corner Law & Order will be filming on), but also hearty enough to weather a puddle jump or two. The best summer fashion trends according to New York women are those that look great, but happen to solve those persistent challenges of city life (sweat, stickiness, and sore feet included).
Below, a handful of the city's coolest residents are sharing exactly which seasonal trends are on their must-try list for 2019. Each of these industry insiders has not only established her own unique niche in the fashion world, but also proven her resilience through the hot and humid reality of city life. The combination makes this group particularly qualified to offer up a bit of NYC-inspired shopping advice. Not only will your summer wardrobe be entirely on point, you'll also be entirely comfortable enough to enjoy the highlights of the next few months.
Marjon Carlos, Journalist And Editor
"Nothing personifies summer dressing more for me than the ultimate slippery slip dress," explains Carlos. "I collect them and wear the heck out of them once the mercury rises. They're a super sexy no-brainer when you just need to go and enjoy the weather. And their weightless fabric makes them incredibly breezy, so you can actually breathe on those crazy muggy days." Carlos adds that her favorites include vintage styles she's thrifted and blogger Tylnn Nguyen's collaboration with Basics Department. I usually style them out with sneakers or a flat sandal, but I just got a pair of By Far's '90s-inspired snake-print mules that I will be wearing just about everywhere."
Harling Ross, Fashion Director, Man Repeller
With rising temperatures comes a desire to lighten up layers, a task which Ross accomplishes by opting for crochet and open knits. "My goal this summer is to resemble the precise variety of doily an older woman might place on her coffee table to prevent her iced tea from leaving a ring, and open-weave knits are proving to be the perfect vehicle," she explains. "My favorite manifestations are those that resemble crochet, like these pants [below] from newly launched (and very cool) brand Yan Yan, or this going-out top from House of Sunny."
Chrissy Rutherford, Special Projects Director, Talent & Social, Harper's Bazaar
This summer is all about embracing color, which is exactly what Rutherford plans to do. "I'm obsessed with citrus-colored clothing this season, she explains. "From orange, to yellow, and even lime green!" While she notes that she usually gravitates towards white when it's warm out, she explains, "lately I'm drawn to any color that resembles fresh cut fruit. They're just more playful and feel like a connection to my childhood."
Juliana Salazar, Stylist And Brand Strategist
Instead of approaching shopping from a trend-based perspective, Salazar notes that she's trying to focus on conscious consumption. "When I really love something, I buy it and incorporate it into my wardrobe knowing it'll likely be there until I've worn it to shreds. Trends kind of kill fashion," she explains. "Two summers ago I really wanted a long sleeve tie-dye shirt and that 'trend' wasn't in motion yet so I actually ended up buying one for $20 on eBay. Now that it is a trend it kind of discourages me from wearing it." Instead of focusing on what's "in" at the moment, Salazar suggests honing in on what makes you feel good. "I would encourage people to shop the products that make them genuinely excited and look good on them instead of looking to what other people are wearing. That way you'll always feel your absolute best, likely never run into the situation where someone is wearing the same thing as you, and it's better for the environment and your wallet."
Wing Yau, Founder & Designer, Wwake
As a jewelry designer, Yau has stood out for delicate, and artful creations, and her trend of choices only reinforces her signature style. "The summer trend I'm most excited about is actually see-through everything, whether it be dresses, trenches or tote bags. Usually made of silk organza with sculptural shaping." explains Yau. Noting that brands like Maison Cleo, Shaina Mote, and Nomia are all on her radar. "I like that this trend is avant-garde, but also easy to wear and ethereal (and lets my jewelry stand out!). I like that in-between, it excites me."
Katie Sturino, Founder, Megababe
Sturino's signature style is bold, bright, and colorful. This season, she's focusing on accessories to add to her look. "The summer trend I'm most excited about is headbands," she notes. "They're a more fashionable and fun way to wear your hair back! I plan on matching them to everything I'm wearing."
Jessi Frederick, Stylist
"I find most trends are cyclical, and much like authentic vintage, they resurface about every 20 years," explains Frederick. Though the stylist's personal look tends to skew minimalist, crafty details have caught her attention this summer. "As much as I am thrilled about Tevas being socially acceptable again, I'm very much into the intricate patchwork, quilting, and crochet detailing happening in the the industry. It gives me a warm feeling of nostalgia and I really appreciate the craftsmanship that goes into these pieces."
Sandrine Charles, Founder, Sandrine Charles Consulting
Charles works with a number of the world's most influential sportswear brands, so it's no surprise that her go-to summer trend fits into the athleisure category. "My summer trend looks include another year of bike shorts, my go to whether Nike or Net-A-Porter," she explains. In addition, she's currently in the market for easy pieces that pop. "Boiler suits. I can never go wrong with a one piece. I've been incorporating color, bright color, to my wardrobe!"
Britt Theodora, Celebrity Stylist
As a stylist for a host of celebrities and models, Theodora knows the value of investing in comfortable footwear — especially heels. "I am in love with the platform sandal trend for this summer," she notes, highlighting that Stuart Weitzman's Stingray sandals are her current go-to. "[They're] so comfortable and perfect for a night out dancing. I wear them with jeans and a T-shirt or a little floral mini dress."
Bianca Del Valle, Holistic Nutritionist And Painter
Del Valle's day-to-day schedule means she's always on the go, part of which is why her trend of choice is particularly practical. "This summer I love the sport short trend. The swim trunk look, I think it's super comfy and super breezy, super chill, super lax ... all the buzzwords," she notes. "I think tight is out and loose is in, which is exciting because we can be more mobile, active, and comfortable. Basically Ralph Lauren swim trunks all summer long."