10 Cool Bathing Suit Brands That Are Tempting Me To Book A Tropical Vacation
Oséree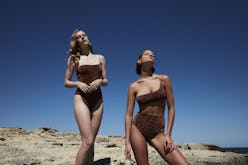 To me, there's not much worse than the dead of winter. So when February arrives with all its single-digit temperatures and slushy snow, I have to get creative about how I cheer myself up. Often, it involves daydreaming of places I'd rather be (somewhere tropical) and things I'd rather be wearing (not four layers of puffy clothing). When my mind inevitably wanders to all the cute swimsuits I could lounge on the beach in, I find it nearly impossible not to book a warm vacation on the spot. And honestly, once you peruse the cool bathing suit brands I've been obsessing over during my mid-winter slump, you probably won't be able to resist, either.
I've actually never cared much about swimwear before, which is surprising considering I usually carefully plan the outfits I wear for every occasion, no matter how informal. I chalk it up to the lack of selection I've been able to find. Before Instagram, swimsuits were an afterthought, I wore random bathing suits I grabbed in stores while shopping for other things and called it a day, because I really had no idea how to find what I wanted. But now that access to a wealth of new brands has opened up, it seems like I find a new bikini I can't live without every day.
Through my endless scrolling, I've found more than a few cool bathing suits I've felt compelled to buy — but the pieces below basically left me with no choice but to design a tropical vacation around their utter perfection. Ahead, 10 cool bathing suit brands making pieces that warrant a one-way ticket straight to Ibiza — they're that good.
Designers Rosie Iffla and Christine Tang founded Sydney-based Fella in 2012. Since then, the brand has been picked up like retailers like Net-A-Porter and Revolve; however, if you order directly from Fella's website, each bathing suit is still made-to-order so you get a swimsuit created just for you.
Lydia Maurer worked at Yves Saint Laurent, Givenchy, and Paco Rabanne before she launched swimwear line Phylyda in 2016 in an effort to create stylish, more size-inclusive swimwear that women would actually enjoy wearing. Now, the brand carries elegant, simple bathing swimsuit separates that are made to easily mix and match in a range of pretty, colorful styles.
Founded in 2015, Oséree is an ode to timeless swimwear, but with a twist — i.e. its sparkly and often bedazzled pieces that come in classic silhouettes. Each swimsuit is designed and made in Italy, always staying true to its Italian roots in both creation and design.
This line was founded by Roxana Salehoun out of a love for vintage beach glamour. Every suit is made with imported European fabrics and made in Los Angeles, and evokes decades of the past while giving you plenty of 2019 style.
Andie is female-founded and female-led — aka created and run by people who understand what it takes to make a bathing suit women *actually* want to wear. The brand is focused on affordable bathing suits that feel comfortable, and offers free shipping and returns so customers can try each piece on at home. Plus, every swimsuit is simple and cute, and I can personally attest to the fact that the fit is on point.
Toronto-born Pari Desai designed for TSE and Calvin Klein before launching her collection in 2014, which explains the attention to detail and unique, stunning silhouettes of her swimwear. Though simple, each bathing suit is easily recognizable as a Pari Desai design, offering a surprisingly sophisticated way to dress for the beach.
No one does swimwear quite like the Australians, and Palm's beautifully-made swimwear is proof. The brand is known for its unexpected, unique details and silhouettes, as well as its fabric, which retains its shape while offering UV protection.
Rove is a Hawaiian-born brand that launched in 2013 with a line of crochet swimwear. Since then, the brand has expanded to other styles and even ready-to-wear, but its appeal remains the same — simple, handmade pieces that are always pretty and fun to wear.
London-made label Hunza G has a long history that began in 1984, when the brand was simply Hunza and was known for its signature crinkle-stretch fabric. When the brand was relaunched, its goal was to turn that fabric into a modern piece — thus its popular swimsuits were born.
This luxury swimsuit brand was launched in 2015 in an effort to create a modern, well-designed, and ethical swimsuit line. Every piece is 100 percent vegan, uses fabrics made from post-consumer plastic waste, and is made to order to minimize dead stock and waste.