The Top Misconception Most Women Have About Sex, According To Therapists
Shutterstock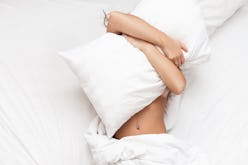 Here in 2019, conversations about sex are more open and prevalent than ever before. But this is just the beginning, and with more ground to cover, there are still many common misconceptions about sex that are often rooted in the messages conveyed by the media, society, and lessons learned growing up.
That's why relationship gurus Jennifer Gunsaullus, PhD, a sociologist, intimacy coach, and author of the forthcoming book From Madness to Mindfulness: Reinventing Sex for Women, and Dr. Valeria Chuba, integrative sexologist and host of the Get Sex-Smart Podcast, are impassioned about de-shrouding the sexual mystery, especially for ladies. "There is so much to learn about sex, intimacy, connection, and pleasure, and our bodies are always changing, as well as our awareness of our own needs and wants," says Dr. Gunsaullus. "Commit to a lifetime of growth mode as a sexual being, and don't let anyone shame you out of that."
To get the train to growth going, ahead, these two experts share the 10 most common misconceptions they address with their female clients. From misunderstandings regarding pleasure and desire to communicating your needs in the bedroom, read on for a professional perspective on what's actually "normal." With a little insight to bolster your confidence, your sex life (and relationship) can be better than ever before.