These Expensive-Looking Earrings From Pixie Market Are Only $18 — And They're Selling Out Fast
Pixie Market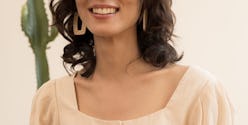 Accessories have the ability to elevate an already-stylish outfit to the next level. They're the final touch before dashing out the door that make you look and feel put-together – even if you're running fashionably late. But when you're already investing your shopping funds on staple pieces and fall's biggest trends, the last thing you want to do is shell out more money for expensive jewelry (that you'll likely wear for just a season or two). Enter Pixie Market, a savvy shopper mainstay for of-the-moment fashion pieces that are easy on the wallet. The online shop just released a ton of new arrivals, including a slew of cool, cheap earrings that don't look affordable at all.
One particularly eye-catching pair, the Petal Drop Earrings (which are selling out fast), will only set you back $18, but look so good your friends probably won't believe you. The drop offers tons of additional (and equally chic) earrings under $20 to suit every style – some coming in at just $12. From geometric shapes to pops of color to woven textures, you'd be hard-pressed to click away without buying a pair or two. Luckily, the prices are so low you don't have to feel guilty about going in on these finishing touches.
Shop a selection of under-$20 earrings here before everyone else snags them — a few styles, like this pearl and wicker pair, are already gone (and the rest are sure to follow suit).