You Can Still Get These Beauty Gifts In Time For The Holidays — & They're All $10 Or Less
Mario Badescu/Instagram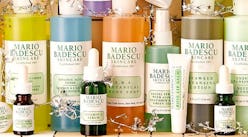 Doing a little panic shopping? You're not the only one — the final countdown before the holidays is fraught with frantic folks attempting to cross those final items off their never-ending lists. That cousin who came crawling out of the woodwork or the old friend who took you by surprise when they turned up back in town needs to be gifted, and while you're game to oblige you may be running out of ideas (and budget). An easy solution? Shopping this selection of beauty gifts under $10 that'll still arrive at your door in time for the slipping under the tree. Weary holiday shoppers, breathe easy.
Thanks to holly-jolly holiday spirit (and a hefty dose of good business sense), many stores have pushed out their shipping services as close as possible to the big day of gift giving, to help last-minute shoppers still arrive with presents in-hand. It's especially good news if you've got any beauty gifts left to purchase for friends, family, or coworkers, but lack time to stop by your local shops between work, parties, and gift wrapping; websites like Amazon, Nordstrom, Target, and more are still taking orders that'll meet the holiday deadline.
Nordstrom's generous (aka free) shipping still guarantees a Dec. 24 delivery on order placed through noon on Dec. 22, so snag affordable stocking stuffers like C.O. Bigelow's crowd-favorite Rose Salve Lip Balm, just $5.99. It smells divine and actually keeps lips comfortable in the midst of rough winter weather, so it's a no-brainer for just about anyone.
Over at Amazon, there's no shortage of Prime-eligible beauty goods that will bring big smiles in spite of small price tags, all with the online retailer's convenient two-day shipping. Shop sets like this 12-Count Sheet Mask Kit, $9.70, or this Five Piece Makeup Sponge Set, $8.99, to help beauty enthusiasts re-up their stock. And beauty stores Ulta and Sephora are still offering ways to get your gifts on time — you may just have to pay a bit more for guaranteed delivery (select Two-Day shipping at Sephora, and Premium Shipping at Ulta for faster arrival).
As far as beauty gifts are concerned, all hope is not lost. Just keep scrolling to see the goodies you can still get your hands on.