The Eco-Friendly Bedroom Upgrades Rachel Zoe Swears By
Sustainability never looked so chic.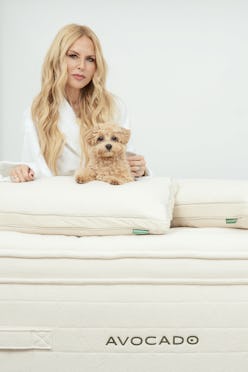 It's 2021, and that means being eco-minded is no longer synonymous with 'lack of style.' Today, brands know that consumers crave a blend of both — luxurious products that also put sustainability first. And adding these options into our consumer sphere doesn't just minimize our carbon footprint — it also helps create a future where you never have to choose between shopping quality pieces and doing right by the planet.
"I think we all have a responsibility as consumers to fully realize the impact we have on the environment," says designer, entrepreneur, and mom Rachel Zoe. "Personally and as a family, we have been more proactive about using brands that are eco-friendly. For me, it's really all about setting a good example for my children. They are the next generation and I want them to be environmentally conscious."
For Zoe, sustainability starts in her Brentwood, California home, where you'll find products made from recycled materials and organic fabrics sprinkled among neutral furniture, subtle pops of color, and her signature '70s-inspired accents. Like her closet, Zoe's home decor represents a mix of glam and bohemian; warm and inviting, with a little bit of edge. And since comfort is a top priority, each piece is carefully curated not just for its design, but also for how well it fits into her family's life.
In no room is that ethos more evident than in her bedroom, and lucky for you, TZR teamed up with Zoe to get the details on how she transformed her sleep space into a next-level oasis that doesn't sacrifice her commitment to living more sustainably. Read on for her must-copy advice.
Curate Calm
Every room starts with a solid foundation, and Zoe's bedroom is no exception. For her mattress and pillows, she invests in sustainable and organic certified pieces from Avocado Green, all handmade in her local Los Angeles.
The Avocado Green Luxury Plush mattress and pillows serve as stylish options that are better for your health, and the environment; both products are non-toxic, free of memory foam (without compromising on support), and carbon negative. Plus, and arguably most important: they feel totally luxe.
"The first thing I notice about any product is quality," Zoe says. "When you sit on an Avocado Green mattress, or lay on one of their pillows, you can really feel the difference. I love my bed to feel like an oasis so I always opt for extra soft bedding and tons of pillows, which this brand does so beautifully."
Alongside these pieces, Zoe tops off the calm vibes by sprinkling eco-friendly candles (she prefers lavender and sage scents) throughout the space, which are a game-changer when it comes to pre- and post-slumber relaxation.
Mix Old With New
Anyone who knows Zoe is aware of her penchant for vintage when it comes to her personal style. Now, when curating a sustainably decorated sleep space, she takes a similar approach.
"You can find so many incredible pieces from the past and repurpose them in a modern way," she says. "Mixing the old with the new can create such a unique bedroom and will definitely have a lower environmental impact." Think: choosing thrifted textiles to contrast her Avocado Green Luxury Plush mattress, and shopping at flea markets for statement wall art and a boho jute rug to play off her contemporary furniture.
"Fortunately, it is much easier now than even two years ago to find furniture and products that are eco-friendly. I feel confident that many more luxury brands will follow suit. They will have to in order to stay on trend."