Rachel Zoe's Favorite Vintage Decor Shop Is Probably Yours, Too
The stylist talks interior design.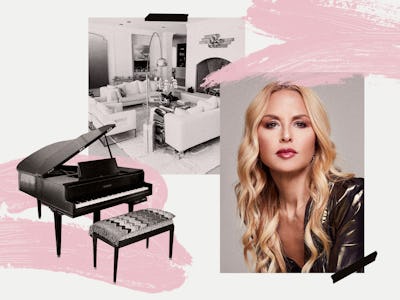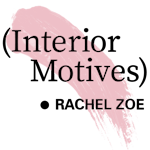 In TZR's franchise, Interior Motives, celebrities and tastemakers discuss their unique approach to home design and how it reflects their personal aesthetic.
Rachel Zoe has moved 13 times in about 30 years. "I'm endlessly inspired by my surroundings, and I think that's why I've moved so many times" she says on a Zoom call with TZR. The stylist most recently relocated from Beverly Hills to the quiet hills of Brentwood, California. For Zoe, the change allowed for a fresh start and an opportunity to flex her interior design muscles, which included raiding some of her favorite vintage decor shops.
"I couldn't love home decor more," says Zoe. "I'm obsessed with it. My surroundings are equally as important as clothing to me. I've always been that way." And this time around, Zoe is working with a killer room with a view. Yes, the mom of two (she has two boys: Skylar, 10 and Kaius, 7) explains that her favorite room in her new Westside home — which she calls The White Room — comes with a stunning backdrop of the Los Angeles city skyline. "We lived in the flats [of Los Angeles] for the past 10 years and I didn't really miss a view, until COVID," she explains. "I'm definitely a claustrophobic person by nature and I started to feel like I just needed to see. I haven't appreciated a view like I do now."
Though it may seem like, as a veteran celebrity stylist, tackling home design would just come naturally, Zoe explains the two worlds do not go hand in hand. "The biggest thing that many people don't understand with home design is that it's a very different art from [personal or clothing] design," she explains. "It's completely different because, as a stylist, you're really non-committal. You can have 50 options to get to one black dress. And then you can still change your mind like five minutes before. But, in the home, you have to pull the trigger and settle on one couch. And that couch has to set the precedent for the room and you can't get sick of that couch for a long time. The same goes for end tables and lamps, etc. Everything is committal and you don't change it the way you do clothes."
Ahead, Zoe gives the rundown on her home aesthetic and how it came into play in the design of her favorite room in her home.
Tell me about The White Room. Why do you love it so much?
I love this room because it's the first room you see when you walk in the house. It's got this sort of '70s European feel to it in that it's a great room with all natural light. I don't think I've ever turned the lights on in there. It's all white but it has glass and brass and a massive fireplace that takes up a whole wall. Even though it's all white, I add a lot of pops of color with a coffee table, books, and bar carts. It just feels very warm and like a dream. And it has our piano that I grew up with. Kaius, my little one, likes to jam out on it even though he doesn't really know how to play.
How much time do you spend there?
Over the holidays we spent a lot of time in there. We're not really having anybody over, but that will definitely be the hangout for sure when we start entertaining again. It sort of leads out to the pool and terrace. So it's [perfect for] that indoor-outdoor flow of traffic and socializing. It was really fun for New Years — we just spent the whole night in there. We lit the fire. Rodger and I drank champagne and the kids hung out in there with us. We had conversation and coziness. It was really nice, it's just a great family room. Just make sure you Scotch Guard everything so you can let your kids run freely!
What inspires you and your personal and home style?
Light is always very important, like natural light. I almost never turn lights on until it's pitch black out. And textures. And warmth. I don't like environments that are cold. I like inviting. I like dream-like.
What are your go-to color palettes for interior design?
I'm very about white and neutrals and adding color with accents because it's less committal. I definitely like a black, white, and metallics kind of vibe. Or just very warm and neutral. I like to commit to things I won't get sick of. In fact, I'm now sitting on a B&B [Italia] couch now in our home office that I've had for 20 years. We had it in our New York loft and moved it across the country and to every house we've been in. Now my kids basically use it as a trampoline. But, when you invest in good furniture and something that's seemingly timeless, you don't regret it. And you can use it forever and you can always recover it.
How would you describe your aesthetic and style and how it pertains to your home?
My home style and personal style are very similar. I'm pretty true to who I am. I have this split personality of like glam with bohemian undertones. I love suedes and leathers and textures and sheep skins and faux furs and animal prints and earth tones. And then I kind of love to add gold accents and brass and lots of Missoni prints and colors.
I think I dress the same. I keep what I own pretty neutral — blacks and whites and earthy tones but then I'll add a lot of jewelry or an interesting pair of shoes or dramatic bag or big necklace. I like to keep the foundations timeless and polished but be able to change the mood with less committal accent pieces. My personal styling works with jewelry and accessories and at home I'll mix it up with coffee table books and blankets and throw pillows and vintage trays.
Have your preferences in regard to home interiors changed at all since the pandemic started?
I would say that fireplaces have become even more important to me. We live in LA, so it doesn't get too cold, but it gets cold enough, especially at night. But there's also something very calming about a fire going. It changes the entire mood. Now, more than ever, you have to make your at-home [atmosphere] really count, you know?
As a renowned stylist and designer, you've been all over the world. Is there a place that you love from a style and design perspective?
There are so many honestly. But, architecturally, I would have to say Paris — but Italy and London as well. But I would definitely say a hybrid of like the Amalfi Coast, the South of France, and Paris [are my favorites]. But everything that attracts me to a space is found in Paris. [I love] the juxtaposition of these very historical buildings with these beautiful ceilings and walls with very modern furniture and lighting. I'm obsessed with that. And I never get sick of it. It still feels fresh to me.
What stores or retailers do you constantly turn to for interiors?
I find a lot at 1stDibs. Some of my very favorite pieces are from 1stdibs. Designer-wise, I love B&B Italia, Mario Bellini, Milo Baughman. But definitely vintage resources and hand-me-downs from my parents. They were way ahead of their time or maybe I didn't appreciate it until now.
How have you spent your time indoors this past year?
Honestly, I'm not going to lie. It's been lovely in that I never have to leave my kids. They're so used to [me leaving a couple of nights per week] to attend events and work dinners and things like that. Now, because everything is virtual, that pressure is off. There's an emotional thing that I think moms go through when they know they have to be out more than they'd like to be. It's that guilt in each direction. So the going-out-for-work component has changed considerably, and I've been appreciating the simplicity of being at home and being still and being with my family and no one else. It's funny, I'm working harder than ever, but the weird thing is, because I'm not traveling or leaving the house at night, that eliminates the stress and exhaustion part of it all.