Here's Why The Cotswolds Should Be At The Top Of Your 2023 Travel List
From the insiders who know it best.
@amandacbrooks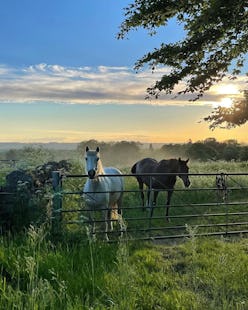 When I, an American who has never been to the English countryside, think of the Cotswolds, I've always imagined the illustrations in a Hans Christian Andersen fairytale come to life: lush, green hills, quaint cottages, and a babbling brook with a watermill, if I'm lucky. According to the perennially chic writer, shop-owner and Cotswolds resident, Amanda Brooks, who originally moved to the area from NYC with her family thinking it would just be for a short stay, I'm not far off. "You really do feel like you're in The Holiday movie. Pastures of cows and sheep, ancient oak trees, miles of hand-assembled stone walls, cozy cottages and stately homes — it's as beautiful as people say it is. Yet, you can hop on the train to London in the morning and comfortably be back home for supper in the evening," Brooks concedes.
Indeed, the Cotswolds, which covers 800 square miles of rolling hills and meadows in central southwest England, was named an Outstanding Area of Natural Beauty in 1966, and is well known for being an idyllic weekend enclave for London city dwellers and anglophiles alike. While the landscape is spectacular in its own right, it's the area's honey-colored villages that London-based creative consultant, Max Hurd, is drawn to. "There's a specific type of stone used in construction...that just captures the light in the most spectacular, almost Mediterranean way," he says. "It's just so beautiful and unique to the area."
Given its unmatched charm and storybook sights, if you're not yet convinced that the Cotswolds should be included in your next European trip itinerary, read on. I've assembled everything there is to see, do and experience before you go, straight from those in the know, after the jump.
When To Go
While the Cotswolds is undoubtedly breathtaking all year round, Brooks says May through November is the best time to visit. Jenny Butcher of luxury travel agency, Abercrombie and Kent's Europe branch, backs that assessment. Spring sees the countryside in full bloom and, "it may even be warm enough to enjoy some sunny days with a picnic in one of the many pretty villages or heritage gardens without the bustling Summer crowds," she says. Autumn, however, brings its own splendor, offering, "beautiful seasonal color as the leaves start to turn." Both seasons are ideal for partaking in long, countryside walks, which Hurd encourages you do in the direction of one of the Cotswolds' classic pubs. "The terrain in the Cotswolds is not challenging, and there is no feeling like sitting down with a pint, or a glass of wine at the end of a long and winding road," he says.
If you're wondering how much time you might need to explore the Cotswolds, Butcher says three days should suffice. She suggests including a visit to nearby Bath or Oxford as well to round out your stay.
Where To Stay
"I think when you are visiting the Cotswolds, if you can take a little Air BNB, you're in for the proper countryside experience," says Hurd. He suggests looking around Chipping Norton or Kingham, the latter of which is where Daylesford Organic is located, one of Brooks' picks. Not only is Daylesford Organic, "like the Dean and Deluca of farmshops," they also have, "the best spa and gym in the English countryside," Brooks notes, as well as beautiful cottages available for booking. Soho Farmhouse, located between Chipping Norton and Great Tew on 100 acres of countryside, is another Brooks pick. For a more intimate experience akin to Hurd's recommendation, Brooks offers her own three bedroom guest house, Fair Green Farm, as a vacation rental. "It's kind of a word-of-mouth hidden secret, but you can find it on instagram" she says. "I think mostly people come to meet our pets who are the stars of the show on my own account."
Butcher suggests The Dormy House Hotel for it's award-winning spa facilities and locally sourced dining options. Located above the village of Broadway, it's close to the landmark Broadway Tower and the incredible Hidcote Manor Gardens as well as scenic lavender fields just outside the village in Snowshill. Lastly, there's the Thyme Hotel near the villages of Bibury and Burford, an impeccably designed oasis with botanically-inspired rooms offering cooking classics and floral design workshops.
Best Places To Shop
Hurd and Brooks both agree that Stow-on-the-Wold, the highest point in the Cotswolds known for its historic market square, is the best area to shop in. Brooks' own store, Cutter Brooks, is located there, where she sells, "a carefully curated selection of fashion, gifts and homeware all inspired by country life." Hurd attests, "[Amanda has] managed to distill the essence of what it is to live in this part of the world, bottle it, and sell it to people who want to take a bit of it home with them!" Next door is Unpolished Space, which Hurd credits with introducing him to some of his favorite new homeware designers. Offering unique items such as wonderfully misshapen paper mache vases and candlesticks, and one-of-a-kind hand painted ceramics, it's a must-visit. Daylesford Organic, which Brooks mentions above, is a favorite Butcher also recommends to her clientele as a great place to "enjoy a relaxing coffee...and pick up some gifts to take home, with premium local produce on offer."
"Also not to miss are the old fashioned sweet shops," Brooks says, "with the glass jars of colorful candies, they are a total throwback to days gone by." Her favorites are in Stow-on-the-Wold and Burford. Of course, no trip to the Cotswolds is complete without doing a bit of antique shopping. Brooks relays you can score amazing finds in all of the villages, although Tetbury and Stow "have particularly good ones."
Where To Eat & Drink
Just like the olden days, most of the great food and drinks in the Cotswolds are located within classic inns. Head to The Wild Rabbit in Kingham for an upscale seasonal menu with produce derived from Daylesford Organic just down the road and local meats from Daylesford's sister farm located on the Wootton estate in Staffordshire. Kings Head in Bledington is another spot Brooks loves. A 16th century inn, it's the perfect spot to enjoy a traditional English meal made with fresh ingredients alongside a cold ale. Brooks' most frequented spot these days is the Bull Inn in Charlbury, "Our friends from the trendy Pelican Pub in London have taken it over and it's lovely to have a bit of young, creative energy from the city show up in a small country town," she says.
Hurd's picks include D'Ambrosi in Stow-on-the-Wold for a quick, tasty lunch of salads and giant chocolate chip cookies, perfect for picnicking. As far as pubs go, Hurd admits he's "spent an almost alarming amount of time over the years at The Chequers. It's a great little boozer with simple, delicious food and a fantastic atmosphere," he attests. Falkland Arms in Great Tew is another favorite for a drink and solid gastropub fare. "They have antique tankards [beer mugs] dangling from the ceiling and the whole place feels like it's still stuck (and happy to be so) in the Tudor times," he notes.
What To Do
For a truly authentic Cotswolds experience, take advantage of Abercrombie and Kent's partnership with the Duchess podcast. The collaboration offers overnight stays and exclusive access to private heritage properties throughout the UK, like the Cotswolds' Sudeley Castle, which was once a residence of King Henry VIII (after hours tours and head butler access, anyone?) Other standout attractions include taking a tour of the Cotswolds Gin Distillery or Blenheim Palace, where Winston Churchill was born. The gardens of King Charles' Highgrove Estate which Butcher says he spent over thirty years transforming using organic and sustainable methods are also open to the public. She suggests Cotswolds Way, a walking path which spans 100 miles from Chipping Campden to the city of Bath, as a great way to take in the rolling Cotswold Hills, stately homes and woodlands, as well.
Yet, while there are definitely sites to see, the best thing about the Cotswolds... is being in the Cotswolds - taking the time to meander through the chocolate box villages and reveling in your antique find, enjoying a delicious farm to table meal in a historic inn, and going on long, aimless walks through pristine countryside, fresh coffee in hand.