Rum Cocktails That'll Lend A Tropical Twist To Your Fall Drink Repertoire
Switch things up this season.
Brugal 1888 Rum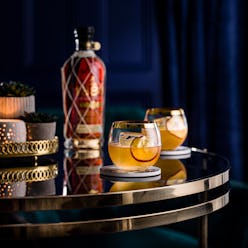 Delivering quintessential vacation vibes, even if you're in the comfort of your own home, you can't deny the transporting power of a tropical, rum-based cocktail. That said, the island spirit is no one-trick pony, despite being typecast as an essential for piña coladas, rum punch, mai tais, and daiquiris. It truly deserves a year-round spot in the cocktail rotation, and that includes the fall season. Indeed, different rum varietals bring varying degrees of spice and warmth to a delicious drink. The spirit's versatility allows it to be a worthy replacement to other liquors in some of your favorite classic cocktails.
For Steve Jefferson, founder and CEO of Kuleana Rum Works, rum's versatility is thanks to its original raw material, the sugarcane plant. "Rum, if made well, tastes remarkably delicious at every part of the process: as fresh juice straight from the cane plant, as a 'beer' after fermentation, and right out of the still as a clear spirit. It also ages very well in barrels, so you can truly have it all," he shares. "Great rum can transform tried and true cocktails into amazingly vibrant drinks that make you step back and wonder why it took so long to try it."
Gabriel Urrutia, brand ambassador for Brugal Rum and professor at Chaplin School of Hospitality and Tourism Management at FIU, explains that the different substances of sugar cane can be converted to also play a part in the spirit's versatility. "[Sugar cane] can be converted to sugar cane juice, cane syrup, molasses, or a combination of both — that just depends on the rum maker's choice," he says. "Depending on how this raw material is processed, you can pick up different tastes and flavors. Therefore, rum is not the same story over and over again, it's a story of the land, of each respective country, and the history."
Urrutia also credits rum's versatility to the process of fermentation and distillation, which is similar to other classic and multifaceted spirits. "Where you can find a whiskey that is aged in Scotland, you can find a rum aged in the Caribbean or other parts of the world, using the same types of barrels — and sometimes aged for just as long," he explains.
Within the wonderful world of rum, there are other important distinctions to make. Most notably the difference between what is commonly known as light, gold, and dark rum. According to Jefferson, these are misnomers. "For many, 'light' rum refers to one that is clear, but for us, 'light' rum is a type of clear rum that is made by coming out of the still at a high alcohol by volume (ABV) level, hence the percentage of congeners is low, and the flavoring is light. That's an important distinction that is hard for consumers to know as many spirit producers don't share their distillation information," he says.
When it comes to gold and dark rum, Jefferson says, "Both imply colorings have been added in order to make them that color and fool the consumer into thinking they have been aged." To avoid confusion, he prefers the terms "Un-aged" and "Aged" rums. "Un-aged rum is clear rum (every spirit comes out of the still clear) and aged rum for our rum that has been put in barrels for maturation, which also gives it a gold/brown color, just like whiskey, brandy, and an añejo tequila," he notes.
Non-Tropical Rum Cocktails Rules Of Thumb
When embarking on a non-tropical rum cocktail journey, our experts have a few helpful tips to eliminate stress swapping another spirit for rum. At the store, Jefferson recommends that people should, "look for rum that clearly and definitively states that there are no additives, flavors, or sweeteners added." In his opinion, mixologists are the ones who should be adding the flavor, not a spirits company. He also has a word of caution to share with customers. "Be wary of misleading age statements. Look for rums that are distilled at lower ABVs, because that is where the real flavor comes from."
Urrutia suggests letting intuition be the guide in the crowded spirits aisle. "When you look at different bottles of rum, go with a brand that speaks to you," he advises. "Maybe it is one you already trust and love, or maybe it is a new brand that you must do your research on. There are so many options out there, so it is best to read the bottles and try to understand what the rum maker is trying to create — it is all about your personal taste and preferences."
Lastly, when it comes to choosing which rum cocktail concoction to create, Jefferson says to begin with beverages that are tried and true for you. "Start with your favorite cocktail and swap in a great, additive-free rum. Play with aged and un-aged variations — you will be pleasantly surprised," he insists.
Ahead, rum replaces regular spirits in traditional cocktails that transport you from the tropics to heaven in these expert-approved cocktail recipes.
Kuleana Rum Old Fashioned
Jefferson gives the rum twist on a classic cocktail his highest praise. "It's the epitome of a great cocktail," he says. "[It] is an incredible sipper that truly reveals the quality of the spirit." Two types of rum blend together seamlessly but also enhance the individual notes of both.
Ingredients
1.5 oz Kuleana Rum Works Huihui
.5 oz Kuleana Rum Works Nanea
.25 oz Brown Sugar
2 dashes Aromatic Bitters
2 dashes of Chocolate Bitters
Dehydrated Orange Wheel for garnish
Instructions
Use a Kiawe smoked glass. Add a large clear ice cube. Stir and strain all ingredients into the glass. Garnish with a dehydrated orange wheel.
Apples To Apples
Urrutia turns the rum cocktail on its head taking the spirit from tropical to toasty. He utilizes cozy and seasonal apples to create an autumnal rum elixir. "I marry tropical flavors with fall flavors in this tasty, spicy, sipper," he says.
Ingredients
1.5 oz Brugal 1888 Rum
.5 oz Cinnamon-Spiced Syrup*
.5 oz Lime Juice
2 Basil Leaves
1 oz Unfiltered Apple Juice
Ginger Beer to top
Apple Chip for garnish
Instructions
Add all ingredients except ginger beer into a shaker with ice and shake for 7 seconds. Strain over fresh ice into high ball glass and top with ginger beer. Garnish with dehydrated apple slice and cinnamon stick.
*Cinnamon-Spice Syrup
Ingredients
2 cups of Sugar
1 cup of Water
3 Cinnamon Sticks
1 Star Anise
2 Cloves
1 Cardamom Seed
Instructions
Add 2 cups sugar to 1 cup water in a saucepan. Over medium heat, allow the sugar to dissolve completely in the water. Drop the heat to low and add cinnamon sticks, star anise, cloves, cardamom seed, and cover. Simmer for 5 minutes. Turn the heat off and let steep for another 2-3 hours. Strain into a container. Should last about 2 weeks.
The Bloody Kraken
Make your morning (Bloody) Mary merry by swapping vodka for rum in this bold breakfast beverage. The warm flavor of the rum flawlessly mingles with spices and tomato juice giving this drink a delightful kick to start your day.
Ingredients
2 Parts Kraken Black Spiced Rum
4 Parts Tomato Juice
.5 Part Lemon Juice
.5 teaspoon Worcestershire Sauce
3 dashes of Hot Sauce
.5 teaspoon Horseradish
.5 teaspoon Celery Salt
.5 teaspoon Sea Salt
.25 teaspoon Black Pepper
2 tbsp Bloody Mary Salt (salt, pepper, & paprika) for the rim
Pickles for glass garnish
Instructions
Rim a glass with salt, pepper, and paprika mix. Thinly slice a pickle and drape it across the inside of the glass for Kraken tentacle effect. Add ingredients to a shaker and fill with ice. Shake and strain into a glass filled with fresh ice. Garnish with as many garnishes as you like on a cocktail pick, such as a lime wedge, celery, olives, and pickles.
Dos Maderas Espresso Martini
Elevate the ordinary espresso martini with rum. The liquor creates a new dynamic in this traditional vodka coffee concoction. It balances the warm notes of rum, the robust bitterness of espresso, and a hint of sweetness perfect for a nightcap or an afternoon pick-me-up.
Ingredients
1.5 oz. Dos Maderas 5+5 Rum
.75 oz. Cold Brew Coffee or hot Espresso
.75 oz. Coffee Liqueur (like Kahlua)
.25 oz. Demerara Syrup (1:1)
Garnish: 3 coffee beans
Instructions
Prepare your Demerara Syrup by dissolving 1 part cane sugar into 1 part boiling water. Let cool. Chill a V-shaped Martini glass or a Coupe. Add your hot espresso or cold brew to your shaker. Add your Demerara Syrup to your shaker. Add your Coffee Liqueur and rum to your shaker. Fill with cracked ice. Shake vigorously for 10 seconds. Strain into your chilled glass. Garnish with 3 coffee beans
Renegade Rum Sour
After one sip, you'll be sweet on this rum sour!
Ingredients
2 oz Single Farm Origin: Lake Antoine (Upper Crater Lake South)
1 oz Spiced Syrup (All Spice, Cinnamon, Nutmeg and Bay Leaf)
.5 oz Fresh Lemon Juice
.5 oz Fresh Lime Juice
1 Egg White
Garnish: Lemon Zest and 7 dashes of Angostura Bitters
Instructions
Add ingredients to a cocktail shaker with no ice. Shake and then add ice. Shake one more time and then double strain into a chilled Nick and Nora glass. Garnish with lemon zest and 7 dashes of Angostura bitters.