5 Rooftop Bars In Paris That Rival The City's Sidewalk Cafés
Aperitif with a view, anyone?
@hotelrochechouart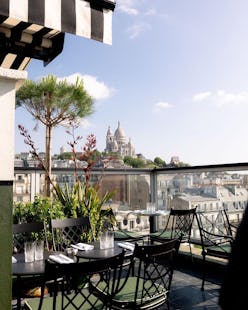 To know Paris is to know café culture. Dating back centuries and deeply ingrained in the city's DNA, a visit to the French capital without spending an afternoon perched on a corner avec un café is a criminal offense. But, as it's been said, Paris is not a city, it's a world, and you cannot appreciate all its nuances solely from a café. "The combination of Parisian architecture, panoramic views, iconic landmarks, vibrant ambiance, romantic allure, and hidden gems make a rooftop vantage point in Paris feel special and provide a unique perspective on the charm and beauty of the city," Jean-Pierre Trevisan says, who is the general manager at the historic Hôtel Lutetia in Saint-Germain-des-Prés.
For those who haven't witnessed the city from this point of view, it's a sight to behold; particularly due to the city's distinctive zinc roofs. "Parisians and tourists love seeing the silvery patchwork shining in the sunlight and changing color, especially during sunset," Orso Hotels Co-Founder Anouk Solanet, who opened Hôtel Rochechouart at the foot of Montmartre with her partner in life and business, Louis. There's also an element of privilege that comes with getting to see Paris from higher ground, Louis explains. "Rooftops with a view are actually so rare in Paris that it's quite easy to name them all. Paris protects a lot of their architecture and roofs are technically not meant to become rooftops, so the ones that do are immediately special!"
It goes without saying, but the views accessible from a Paris rooftop are truly one-of-a-kind. "You feel like you can touch some of the city's most iconic monuments, such as the Sacré Coeur or Eiffel Tower," Louis says, adding that the people watching is different from up high versus down at a café. "Rooftops are a way to see local people going about their daily routine as from the pavement you do not see anything but from up there, you can observe them watering their plants, eating with their friends, and so on."
Many of these rooftops are accompanied by lush greens, creating an oasis effect. "Paris is known for its charming rooftop gardens, known as jardins suspendus," Trevisan says. "These elevated green spaces are often hidden from street view, but from other rooftops, you might be able to catch a glimpse of their lush vegetation, flowers, and serene atmosphere."
So which rooftops to head to? Of course, a hotel room with a view such as the famed Hôtel Lutetia rooftop suites are nothing short of iconic. You can also enjoy the sites from a local attraction. "Truly the best rooftop is always the Sacré Coeur, and it's free! If you have the chance to have a friend who lives in the area, stick with him," jokes Louis. Otherwise, consider the five rooftop bars ahead for a picturesque aperitif.
Hôtel Rochechouart (Pigalle)
Situated in the heart of Pigalle at the base of Montmartre, Hôtel Rochechouart is a haven for those looking for a stylish — not trendy — stay in the city. The Art Deco facade sets the nostalgic tone for the Festen-designed interiors. And up at the rooftop bar, guests are treated to a front-row view of the Basilica of Sacré Coeur, one that is just as dazzling at sunrise as it is at sunset.
La Fantaisie (Faubourg-Montmartre)
A newly-opened hotel that feels plucked from a Wes Anderson fever dream, La Fantaisie is a feast for the senses. Designer Martin Brudnizki is behind the property's fantastical design, which threads up to the rooftop establishment Poppy's — a restaurant inspired by an antique garden greenhouse complete with pastel-hued furniture and charming parasols to keep you shaded while sipping on a pastis.
Hôtel Dame des Arts (Latin Quarter)
Also a newcomer to the Parisian hotel scene, Hôtel Dame des Arts opened earlier this year and is nestled in the Latin Quarter on the historic Left Bank. The hotel was designed by acclaimed designer Raphael Navot and incorporates natural textures, earth tones, and fluid lines throughout the space. The rooftop is magnetic — one can enjoy 360-degree views of sites like the Eiffel Tower, Sacré Coeur, and Notre Dame from one of the plush sofas.
SO/ Paris (Bastille)
Gracefully positioned on the banks of the Seine river, SO/ Paris is housed within a 1966-era building with interiors that are bright, colorful, and artistic at every turn, including the panoramic terrace. The design up top was inspired by the Space Age and features a mirrored ceiling that flips the cityscape upside down, resulting in double the incredible views.
Hôtel Molitor Paris (16th Arrondissement)
For a rooftop experience that feels truly unexpected, head for MOLITOR in the 16th arrondissement. It originally opened in 1929 as a piscine municipale (a water recreation center) and is listed as a historic building — it's been said this is where the first bikini was spotted. Nowadays, it's an artful hotel that boasts a rooftop terrace overlooking Paris and the Roland Garros courts, the site of the French Open.