Reese's Book Club Is Hitting Sheraton Hotels Around The World
Forget gift shops, resort libraries are the new thing.
@reesesbookclub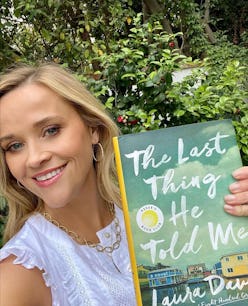 Reese's Book Club just went global. This week, the popular program, a part of Witherspoon's Hello Sunshine company, announced its partnership with worldwide hotel brand Sheraton Hotels & Resorts (part of the Marriott Bonvoy family). The two have joined forces to launch the first-ever Lobby Library in select Sheraton locations worldwide. The rollout is part of the hotel brand's larger initiative Gatherings By Sheraton, which aims to help guests and locals maximize their travels through shared cultural experiences and storytelling.
"Sheraton Hotels & Resorts, with its rich legacy, has always stood as a place where communities come together, and Gatherings by Sheraton is an extension of that ethos," says Amanda Nichols, global brand leader, Sheraton Hotels & Resorts, in an official release. "Given our commitment to being 'The World's Gathering Place,' we're excited to partner with Reese's Book Club, the Internet's biggest book club. Through books, we dream; through travel, we live those dreams. Now, guests and book enthusiasts from every corner of the globe can come together at Sheraton and create new stories, connections, and memories."
The Lobby Library concept will be popping up over the next few months, kicking off at the hotel's Los Angeles location from Oct 11 through November 12, followed by the Sheraton Centre Toronto Hotel and Sheraton Grand London Park Lane in early 2024. In addition to the collection of book offerings (which can be purchased or enjoyed in guest rooms), the pop-ups will also host book tours, signings, and a "Beyond the Page" moderated speaker series featuring renowned female authors from Reese's Book Club network.
Avid followers of the A-lister's reading program — and general book worms — will be happy to hear Sheraton hotels are also planning to host monthly meet-ups around the Book Club's monthly drops, as a means to gather and connect.
"At Hello Sunshine, we believe that books bond us — they have the incredible power to connect people across borders, cultures and experiences," explains Sarah Harden, CEO, Hello Sunshine. "The power of storytelling to inspire and connect a community are at the foundation of Reese's Book Club and we're thrilled to partner with Sheraton Hotels & Resorts on this special program and continue to unite global communities and inspire conversation through the joy of reading."
To learn more about Sheraton and Reese's Book Club's new partnership, visit sheraton.marriott.com/reesesbookclub.