How To Plan A Trip To Porto, Portugal's Hub Of Food, Culture, & Wine
The city doesn't play second fiddle to Lisbon.
CHUNYIP WONG/E+/Getty Images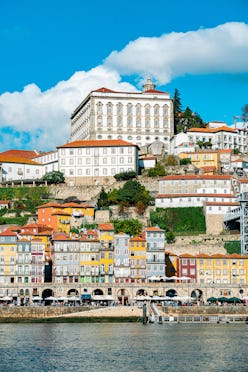 Most travelers bound for Portugal fly into Lisbon and spend a few days exploring the picture-perfect capital. A standard itinerary tends to include a day trip to the Alentejo countryside and perhaps venturing south to the golden beaches of the Algarve for the weekend. That said, vacationers interested in art, culture, and gastronomy should set their sights farther north. Situated on the banks of the Douro River estuary, Porto (also referred to as Invicta, meaning undefeated) is a vibrant cultural hub with a UNESCO-listed cobbled core and centuries of stories to tell. Steeped in history but not stuck in the past, Portugal's second city has recently become a mecca for expats, digital nomads, and creatives who have brought fresh energy to one of the oldest ports in Europe. Not only does it offer an incredible culinary scene, beautiful tiled buildings, and port lodges along the Vila Nova de Gaia but it's also a terrific home base for day trips to Douro Valley.
So, if you're planning a trip to Portgual in 2024, make sure to add a few days in Porto to your itinerary. The underrated gem truly does not disappoint. Here's how to plan the perfect trip — complete with francesinha sandwiches, riverside strolls, and, of course, plenty of fortified wine.
Where To Stay
For a boutique stay right in the heart of everything, check into Torel 1884. The sister property of the artsy and elegant Torel Avantgarde is a design lover's dream that nods at Portugal's Age of Discoveries with whimsy and a contemporary sensibility. Potted plants and clay masks by sculptor João Pedro Rodrigues greet guests in the entryway. On the three floors above, high-ceilinged bedrooms are themed off Africa, the Americas, and Asia. There's also an inviting guests-only library and a ground-level restaurant/bar for Portuguese food with international influences.
Set back from the center, Village by BOA took over and transformed a 19th-century working-class community. The present-day structures still reflect the original character on the exterior, only now the interiors are quite fresh and modern with a neutral palette, local ceramics, and wood accents. The reasonable rates and apartment-style setups — which range in configuration from studios to two-bedroom duplexes — make it especially appealing for longer trips and remote workers.
Away from the hustle and bustle on the other side of the river, The Yeatman is a five-star standout in Vila Nova de Gaia. From the decanter-shaped pool and walls decorated with vineyard murals to cellar tours and grape-infused facials at the spa, it's the ideal retreat for lovers of wine and luxury.
Where To Eat & Drink
Frequently hailed as the best food destination in Portugal, Porto is a culinary superstar with everything from modest hole-in-the-walls to fine dining. To try a real-deal francesinha — a famously hearty open-faced sandwich composed of meat, melted cheese, and fried egg smothered in a rich, boozy sauce that originated in the city — beeline it to Café Santiago. If there's one thing everyone seems to agree on, it's the level of deserved fanfare surrounding Taberna Dos Mercadores, a tiny, 20-seat eatery that fires the most mouthwatering seafood rice around and only accepts reservations over the phone. Unpretentious, homespun recipes keep the throngs of locals and in-the-know travelers returning to O Buraco.
A bit off-the-beaten-path in a more residential area, Apego provides an outstanding dining experience with artfully plated dishes, a curated wine list, and warm hospitality to match. Gruta serves refined, Michelin-rated renditions of classics like shrimp sautéed with olive oil and salsa verde in an upscale yet wonderfully unfussy setting.
At the bi-level Mercado do Bolhã you'll find a variety of vendors selling produce, flowers, tinned fish, and prepared foods. On Friday afternoon, it's the place to grab a glass of wine, a porto tonico, or a fresh juice and something tasty to nibble, catch up with friends and enjoy the convivial energy.
The city also has a strong cafe and bakery game. Head to Época Porto and Manna Porto, which are both great spots for mid-sightseeing refueling with specialty coffee and plenty of veg-friendly offerings. Sweet tooth? The always-busy Castro makes the most crave-able pastéis de nata.
One of the main reasons people come to Porto is, of course, to drink port. And if you fall into that camp, rest assured the options are plentiful. Cálem and Graham's rank among the most popular lodges in Vila Nova de Gaia for tours and tastings. In a sea of wine bars, Genuíno and A Cave Do Bon Vivant stand out from the rest.
What To Do
Porto brims with impressive landmarks. First up, the hilltop Porto Cathedral, an important Romanesque monument known for its stunning tile work and far-reaching vistas. Another spot for amazing views, the iconic bell tower attached to Clérigos Church rises nearly 250 feet. Visitors can climb the spiral staircase to the top for panoramic sweeps before heading downstairs to check out the religious artifacts and listen to organ concerts.
The Palácio da Bolsa boasts a Neoclassical facade and opulent interiors. Around the corner, the Church of São Francisco is well regarded as the most impressive example of Gothic architecture in the city. There's typically a bottleneck of shutter-happy tourists trying to snap selfies in front of the blue-and-white tiled Capela das Almas (Chapel of Souls in English). As you're ticking key attractions off the list, don't forget about Livraria Lello — which reportedly inspired Hogwarts in the Harry Potter series — Igreja do Carmo, Casa do Infante, and Church of Saint Ildefonso. Cais da Ribeira, the lively riverfront promenade buzzes with pedestrian foot traffic. It's a great place to walk around or stop for a drink and watch the boats cruise past.
To reach Vila Nova de Gaia, walk across the famous Luís I Bridge and then hop on the Teleférico de Gaia for stunning skyline views and an expedited entry to the riverfront. When the new WOW cultural district opened, it very much changed the landscape of things, turning the area into a thriving enclave of museums — including the Instagrammable Pink Palace that allows patrons to try five different styles of rosé.
Day Trips
The world's oldest demarcated wine region and the birthplace of port, Douro Valley sits 90 minutes outside of Porto — making for an easy day trip. Besides just sipping and swirling, viticulture enthusiasts will enjoy guided walks through the rolling vineyards, visits to historic quintas, and scenic rides along its namesake river. If you have a night or two to spare, it's well worth staying over at one of the vinho-centric hotels like the Six Senses Douro Valley.