How To Do Lisbon In 3 Days
Yes, you can still cover a lot of ground.
Artur Debat/Moment/Getty Images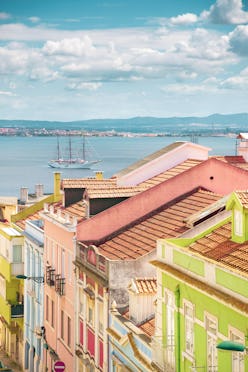 It's no secret that Portugal is having a well-deserved moment in the limelight. Although certain places like the country's capital and the sun-splashed Algarve have been popular for quite a while. Now more than ever, even the most well-trodden destinations are experiencing a huge surge. Lisbon, for example, which was recently crowned the most economical city for short getaways in Europe, has already smashed tourism records for Q1.
I recently visited the City of Seven Hills for the second time. This trip solidified that it's unquestionably one of the coolest, most vibrant capitals on the continent. Portugal's photogenic cultural hub will steal your heart with its cobbled streets, intricate tiles, graffiti-covered trams, interesting attractions, fashion scene, boutique hotels, and incredible food.
Whether you're planning a long weekend or just have a few days in between flights (something that happens quite a lot since Humberto Delgado Airport functions as the international gateway to the rest of Portugal), here's how to make the most of 72 hours in Lisbon.
Where To Stay
The Vintage Lisbon, a member of Small Luxury Hotels of the World, caught my eye on Instagram some time ago. I'm happy to report that this independent bolthole in Principe Real impressed IRL. Interiors channel the mid-century aesthetic with wood furnishings, geometric shapes, and bold colors. There's also a rooftop bar, a subterranean spa, and vine-draped restaurant patio. For an unbeatable location in one of the most dynamic parts of Lisbon, refined design, and standout F&B, check into the Barrio Alto Hotel.
On the quieter side of things, Hotel das Amoreiras sits on the edge of a tree-filled square. Continuing the leafy and laid-back theme, there's a courtyard with checkered throw pillows and an all-day snack menu. The rooms lean into the restful atmosphere with muted hues and garden views.
Lovers of luxury are almost assuredly already familiar with the Four Seasons Hotel Ritz Lisbon. The grand dame treats guests to five-star service, opulent interiors, an indulgent spa, and food worth the fanfare. It also boasts one of just a handful of outdoor pools in the city — a majorly posh perk.
Attractions
The first stop for many history buffs visiting Lisbon for the inaugural time? Castelo de S. Jorge, an 11th-century Moorish castle perched on a hilltop with well-intact palace ruins, an archaeological museum, free-roaming peacocks, and panoramic vistas of the cityscape.
Two of the most emblematic landmarks in Lisbon sit in the parish of Belém. The first, Belém Tower, is a well-intact 16th-century fortification with gorgeous water views. The UNESCO-listed Jerónimos Monastery displays Late Gothic Manueline-style attributes and also houses museum wings with archeology and maritime exhibits. If you're keen to see Lisbon from the water, Tagus River boat cruises also depart from the nearby marina. Among the hippest areas in Lisbon, LX Factory is a hub of creative cool factor. If you decide to attempt the 90-minute walk back from Belem (which I forced my family to do), it's a welcome midway pit stop to grab a drink or a bite, admire art, and maybe pick up some artisan souvenirs.
Lisbon has many lovely green spaces. Parque Eduardo VII is a sprawling urban park that spans 26 hectares of lawns, landscaped topiaries, a monument, a lake, and paved pathways. The Lisbon Botanical Gardens feel like a lush, peaceful oasis in Principe Real with shade-giving trees and flora from around the world.
This might sound like a counterintuitive thing to do on a short trip, but do yourself a favor and book some time to just wander around. I'm partial to kicking things off in either Principe Real or Bairro Alto. It's also worth meandering over to Alfama, the oldest neighborhood in the city. Looking to cover more ground? Hop on an iconic graffitied tram.
Shopping
Avenida da Liberdade boasts some of the most expensive real estate in Portugal. Fittingly, it's also where you'll find big-name designers such as Prada, Loewe, Cartier, and Van Cleef & Arpels as well as upmarket European labels like ba$sh.
Lisbon offers many stylish boutiques. A few of my favorites include New BoBo Lisboa, Ali-Jo Lisboa, and Bernardo along Rue Dom Pedro V. Nearby EmbaiXada houses over a dozen independent vendors inside a 19th-century palace. Barro Store in Barrio Alto stocks slow fashion garments — blouses, shorts, pants, and dresses — with an emphasis on fluid fabrics and shapes. Founded in 1925, Luvaria Ulisses is a beloved stalwart for artisanal leather gloves. In the market for sunglasses? Go to FORA in in Chiado. +351, the country code for Portugal, reflects the spirit of its birthplace through clothes, accessories, and jewelry. The city is also a treasure trove of vintage stores, from 88 Retro to Tropical Bairro.
Food & Sips
Lisbon's food scene continues to evolve. Of course, you can find some of the best Portuguese cuisine, but the breadth of its epicurean offerings now crosses countries.
Restaurante Pica-Pau serves traditional recipes in an atmospheric setting. Ofício — a self-described "atypical tasco" — puts a contemporary spin on things with surprise-and-delight share plates that keep diners hungry for more. I really wanted to eat at Prado, but wasn't able to snag a reservation. Luckily, Prado Mercearia had a table available for lunch. This second visit (the first was back in June 2019) reaffirmed that the tinned fish and cured meat are always crowd-pleasers. Fans of seafood should head to Rosamar, a stylish eatery in Príncipe Real that specializes in oysters, ceviche, and other fresh-caught dishes. I'm not sure what's more impressive: the food (think Alentejo pork and prawn rice) or the sweeping views from the terrace at BAHR at the Barrio Alto Hotel.
Essencial focuses on French food that's lovingly prepared with Portuguese ingredients. Gunpowder, a contemporary Indian concept you might know from London, recently made its debut in Lisbon with a seafood-focused menu of hits like curry-marinated grilled local turbot and kachumber-topped Algarve oysters.
Celebrating something special? (And, yes, just being on vacation counts.) Treat yourself to Michelin-starred gastronomy at Cura at the Four Seasons Hotel Ritz Lisbon or Alma, an acclaimed fine-dining establishment famed for multi-course tasting menus and wine pairings.
Many places purport to have the best pastel de nata in the city. But the general consensus is that the creamy egg custard tarts at Pastéis de Belém reign supreme. Also on the sweet side of things, Nannarella and Sorbettino scoop some of the best gelato (and sorbet) in the city.
The hilly Portuguese capital packs a punch of cool rooftop bars with thrumming energy and eye-popping sweeps. Topping my list? Lumi Rooftop at The Lumiares Hotel & Spa. Other standout spots to grab a tipple include Red Frog, Quattro Teste, and Toca da Raposa. Prefer wine? Dale Ott, the founder of Nossa Imports, suggested we go do a tasting at Nova Wine Bar, which he says stocks the most robust selection of Portuguese vinho in Lisbon. I can confirm, the range of pours from all over the country is extremely impressive. Ditto for owner Pedro Caixado's knowledge of the topic. Since you have a few nights, definitely try Magnolia and Comida Independante, too.
Day Trips
In Portugal, all roads lead to Lisbon. That means it's easy to reach many other destinations. Should you feel inspired to explore beyond the capital, both my top picks are located about 30 minutes away. So it's doable to rise early and go for even just a few hours.
Situated in the mountains, Sintra has long served as a refuge for royals. Today, it's a tourist mecca with heritage and eye-catching architecture. Its most photogenic asset, the candy-colored Peña Palace delivers heaps of fairytale charm and far-reaching views. Cascais is a popular seaside resort town that tenders sandy beaches, a bustling marina, and an old town with a treasure trove of historic attractions.