Luxe Gift Guide For Every Valentine On Your List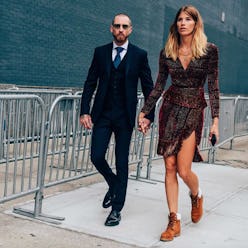 We get it, not everyone is a huge fan of Valentines Day, but everyone is a fan of gifts. Here, 14 thoughtful presents for everyone from your BFF to your beau.
Valentine's Day Gifts For ALL The Loves In Your Life
For Literally Anyone
Pink champagne? Anytime, anywhere!
For Your Long-Distance Beau
What could be better than gifting your significant other a pair of cheeky matching undies? Sleepover attire? We approve.
For Your BFF
Pay homage to your favorite sassy pal with an iPhone case they will surely adore.
For The Heartbroken
What better remedy is there than wine and chocolate? This combo is perfect for anyone going through a break up.
For Your Girlfriend
Give the hopeless romantic in your life extra encouragement with these opulent, heart-shaped earrings.
For Your Fashion Friend
Hal Rubenstein—one of the greatest fashion editors ever—sent this book to Rachel Zoe and it has been admired by literally every single person visiting her office. Gift this coffee table book to any fashion lover to score some serious points in the chic department.
For Your Sister
Any gift you want yourself is always perfect for your sister. Our advice: Buy two so you can keep one.
For Your Mom
Sending flowers to your mother is always a good idea. BloomNation sources local florists and shows pictures of the actual arrangement so you know exactly what you're sending.
For The Kiddos
Get crafty with your favorite little valentine while making your own homemade ice cream! These darling kits are available to ship nationwide, so you can ensure you're nieces and nephews remember their favorite aunt/uncle.
For Your Brother
If your bro is in college or lives in a different city, send him something edible. A bundle of mini customized cupcakes are cute and delicious.
For Your Dad
Whether your dad is an avid letter writer, or simply gets the bills paid on time—he'll love a customized stamp so his return address can be added to mail in a snap.
For Your Grandmother
Grandmas cherish hard-copy photos, so take a bunch of mini Polaroids with your phone and we guarantee she'll be overjoyed.
For Your Grandfather
Chances are your Grandfather has fewer opportunities to get dressed up than he did in his youth, but flashy socks are a fun way to support his stylish tendencies.
For You
Splurge on a beautiful color-blocked shoulder bag. After all, it is Valentine's Day and you're worth it.