Jacqueline Zhang Of Nana Jacqueline On The Creative Power Of Travel
The brand founder is always on the go — for good reason.
@jacquelyn.zsy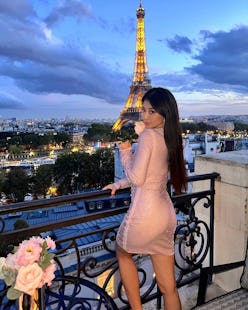 Carry-on luggage or checked bag? Window or aisle seat? Tropical sandy beaches or majestic mountain ranges? You can learn a lot about a person through their travel preferences and habits. TZR's series Get Out Of Town gleans tips and habits from tastemakers to better understand what makes a first-class getaway.
Sicily. Paris. Palm Springs. London. What do all these iconic locales have in common. Well, they've all inspired a specific collection for It girl label, Nana Jacqueline. Since 2016, the Los Angeles-based brand (founded by Nana Li and Jacqueline Zhang) has transitioned from loungewear line to luxury fashion house, dressing everyone from Ariana Grande and Hailey Bieber to Blackpink members Rosé, Jennie, and Lisa. Now known for its ultra-feminine silhouettes and sensual-but-sweet detailing, the label seemingly reinvents itself each season by drawing from various destinations across the world. So, it's safe to assume that the aforementioned Zhang (who serves as creative director) is a seasoned traveler.
"I travel every two months," she says to TZR, recalling her trips for various brand shoots in 2023 alone. "I would say it definitely depends on what our collection is for sure. The Halo [Resort 2023] collection was inspired by Utah, so went to the Amangiri Resort. And then we went to Palm Springs for a short vacation [for Cruise 2023], and then we actually just came back from London [for Fall/Winter 2024]."
And that's just work-related travel. Zhang, who resides in Orange County, California, explains that she also frequently jet-sets with family and is in the process of mapping out her holiday travels as we speak. "I haven't been to Asia for five years [...] so I might go back to Hong Kong and Japan for a little bit," she says. "And then maybe at the end of the year I'm probably going to visit Switzerland to see the snow."
With so much of her time spent in different countries, it's no wonder Zhang's main line of creativity is rooted in her travels. From the pink pillbox hats inspired by British fashion, pastel knit rompers designed for a Palm Springs getaway, the body-hugging cutout gowns mimicking the jagged edges of Utah's rocky canyons and the corseted micro-mini dresses that will drop you right into the Moulin Rouge, the world is truly Zhang's oyster ... and her muse.
Ahead, the entrepreneur spills her travel secrets, from the essentials she packs to the skin care routine she sticks to in-flight.
Carry-on or check-in?
Check a bag for sure. [I'm a heavier packer] but I'm quick. I know exactly what I want to pack.
What are three items we will always find in your luggage?
A laptop for sure. I would say, nowadays, probably a skin moisturizer or a spray. Also, a claw clip for my hair. I want it all the way up.
What's your in-flight routine?
I would say, first of all, I like to take off my shoes and then switch to slippers on the airplane. And I always like to remove my makeup. Then, I just [apply] some moisturizing skin care and lip [stuff] to just keep them hydrated. I then just get on wifi, either look at messages or just get on my emails to to see if there's anything that I didn't respond to. It's definitely work first [on a plane] Then, after I see everything is [taken care of], I'll just start a movie.
What are non-negotiables when it comes to hotel stays?
I would say I definitely like a comfy clean room with a view. It doesn't have to be [super] beautiful [or perfect], just anything where you can see the city ... maybe the street or something. This makes me feel opened up. And then [I love] a pillow. Like a really comfy, soft pillow for sure.
What trip(s) are you planning right now?
I haven't tthought about that yet because I just planned the half of the year around the fall/winter 2023 [collection]. But I do know we have our Egypt collection coming for spring/summer 2024. So, I hope we can make it, but we'll see.
What place have you visited multiple times? And why?
Paris for sure, because I really love the city. It's just a romantic place overall. And I feel like the whole city is a museum, from small art galleries to those big [exhibits], I can never get tired of it. I love the people, [they] are just so welcoming and enthusiastic. I love the atmosphere in Paris for sure. I feel like when you're visiting, you see a lot of creativities and get a lot of inspiration in art, culture, etc. It just makes me really happy. Also, there's the food, the hotels — it's timeless.
Are you an itinerary planner? If so, how detailed do you get and how much will you stick to it?
I mean, I have a broad idea of where I want to go. And then I always do a lot of research on this app that called Little Red Book. It has people suggesting where to go and where to stay. It's like a blog [for everyone]. So, I do a lot of research before I actually go to a place. For example, when we were in London [for the fall/winter 2023 collection shoot], we looked up the most iconic views and the best vintage stores, good hotels, restaurants, cafes, operas, all of that.