IKEA's New OMSESIDIG Collection Encapsulates The Colorful Joy Of Latin America
It delivers feel-good vibes.
Courtesy of IKEA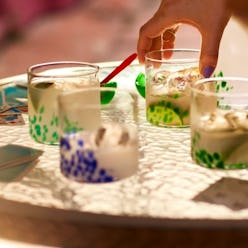 IKEA is branching out this year, expanding its reach into new Latin American markets including Chile, Colombia and Peru. And what better way to celebrate this expansion than by creating home furnishings that honor the talent that comes from these regions? That's exactly the vision for IKEA's new ÖMSESIDIG collection, an amalgamation of nine visionaries in the art, fashion, food, design, and architectural realms.
"Our collaborators are rising stars across a variety of creative scenes and have worked together with IKEA in-house designers Friso Wiersma and Akanksha Deo on home furnishings that mash the IKEA design values with local traditions and expressions specific to Latin America," reads an official press release. "The result is a collection rich in authentic stories."
Said rising stars include chef Álvaro Clavijo, ceramasist Catalina Zarhi, multimedia artist Diana Ordóñez (known as Ledania), product designer Liliana Ovalle, creative director Agustín Nicolás Rivero, textile designer Marisol Centeno, furniture designer Abel Cárcamo Segovia, muralist Trini Guzmán, and architect Felipe Assadi. Together the well-rounded team came up with a vibrant mix of products ranging from glass- and tableware and party garlands to lampshades and cheerful carrier bags, perfect for outdoor entertaining and warm-weather gatherings.
"With this collection, we have a story to be proud of," says Tjeerd van Waijenburg, range and product design leader at IKEA. "We are curious about new countries, new people, new designers — let's try something out."
For her colorful, festive reimagining of the classic FRAKTA bag, Ordóñez says she was inspired by the bright and beautiful masks worn at traditional Colombian carnivals. "There are many kinds of masks in my artworks," she says. "The mask is a kind of costume that allow us to be another character. Colombian culture has many festivals, and masks are used as a way of expression, a moment when you can be a monster, a bull, a cow, a women, a man. For me, the mask is an interpretation of the many characters that are inside of us."
In the same celebratory vein, Mexican-born Ovalle designed a lampshade made from rice paper as a means to breathe life and vitality to al fresco meals and parties. "I like how hanging paper decorations can transform a space and make it festive, from papel picado (cut paper) to party streamers," she explains.
Indeed, the entire 30-piece collection aims to deliver all the fun, unity, and warmth of coming together with friends and family. Be sure to shop the ÖMSESIDIG offerings when they hit shelves in April. Prices range from $3.99-$49.99.