IKEA Celebrates 80 Years Of Timeless Design With Its New Limited Edition Collection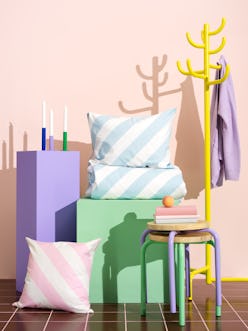 It's fair to assume that a vast majority of people have owned at least one piece of IKEA furniture in their lives. Maybe it's the KALLAX shelf unit that housed your text books in your college dorm or the FRIHETEN sleeper sofa that served many party crashers in your first apartment. Or, perhaps it's the classic GODMIDDAG dinnerware set that you still keep in your kitchen for everyday use. This long-standing history (80 years, to be exact) of world-renowned and functional design is being properly celebrated this week as IKEA unveiled its limited edition 80th anniversary collection, dubbed Nytillverkad, at Salone del Mobile in Milan in honor of the brand's milestone birthday.
For context, the annual furniture trade fair is the largest of its kind in the world, so it makes sense that the Swedish label would choose the buzzy event to unveil such a special collection. Also, considering the increasing interest in vintage and archival design, it also feels appropriate that IKEA is looking to the past for its latest installment.
"At IKEA, the past, the present, and the future are all connected," Fredrika Inger, managing director at IKEA, says in an official press release. "We've designed many functional and beautiful home furnishing products during the last 80 years, and it's only natural that we get curious about our achievements in the past. With Nytillverkad, we are returning to the future, again. In multiple launches over the next few years, we will release a series of carefully selected products from our design archive, updated to match the bold outlook of the next generation. We are happy to bring back these timeless designs truly appreciated by the customers over the years."
So, how exactly does this old-meets-new vision manifest? Think classic retro styles like the LÖVET three-legged side table, originally released in 1956 in a warm wooden finish, reimagined in orange, blue, and light green shades with an ash veneer top.
Also being recycled are the brand's poppy prints. The whimsical KRYPKORNELL pattern created by Swedish textile designer Sven Fristedt was originally introduced as "BLADHULT and first appeared on a cover for the legendary KLIPPAN sofa in 1980," according to IKEA's official press materials. For its 2023 glow-up, the print is splashed on bedding, kitchen accessories, and cushion covers.
These examples are truly just skimming the surface of the candy-coated collection that spans bedding, tableware, furniture, and textiles. All the items feature the practical, timeless style IKEA is known for with a fresh take that aligns with current trends. "The simplicity in the design — how they look — and how they help you in your everyday life is what makes this collection so special," says Johan Ejdemo, design manager at IKEA, in a press release.
The new Nytillverkad can be previewed all week at Salone del Mobile in Milan from April 18 - 23 and will be available for purchase online and in IKEA stores in July 2023.