If You Want To Give Nice Gifts Without Spending Much, Check Out These 65 Things
They'll please even the most discerning tastes.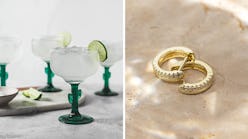 We may receive a portion of sales if you purchase a product through a link in this article.
Gift-giving can be a wonderful way to demonstrate your love, but the idea that "cost" is commensurate with "care" is, frankly, a bit passé. Modern shoppers are equally conscious of their budgets as they are the quality of the products they're buying, and retailers have risen to the occasion. So if you want to give nice gifts without spending too much, check out these 65 things: They're thoughtful, unique, and sure to please a number of people on your list — and though these gifts look and feel expensive, nothing will set you back more than $40.
Helmed by our discerning shopping editors, this list was created with all kinds of recipients in mind, from the brand-new homeowner (get them that bamboo charcuterie board), to the trend-devoted sister (she needs a glazed donut manicure kit in her life), to the snobby-in-a-good-way foodie friend (how about some ceremonial matcha powder?). That all the products on this list are available on Amazon only makes the purchasing process easier, and since many are eligible for Prime, you can get them delivered in just about two days (because procrastination also isn't an indication of a lack of care!).
Scroll on to discover 65 nice, thoughtful gifts that don't cost a fortune. They're gonna love them.