Update Your Home With This Accent Color, And You're Immediately Ready For Spring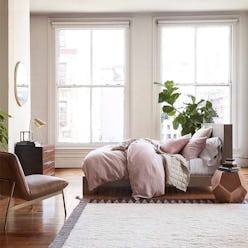 Pastels in spring are a little like florals—yes, they can seem a touch obvious, but we love them anyway. And they're definitely not going anywhere. This spring, the shade of the season is lavender. According to Pinterest, searches for "lavender accents" are up more than 300%.
The feminine hue makes a statement on its own but also plays nice with a variety of other colors. Even better: lavender (the color and the flower) has soothing, relaxing qualities. Ready to add some of this pretty pastel into your life? We've rounded up our favorite lavender home pieces.
Lovely Lavender
Urban Outfitters Arc Mirror Set, $199
Urban Outfitters Alden Bistro Table, $149
Urban Outfitters Speckled Planter Set + Tray, $35
Zara Home Premium Quality Cotton Bath Mat, $26
West Elm Faceted Porcelain Vases, $19-$34
Anthropologie Crowned Quartz Knob, $28
Anthropologie Koki Wine Glass, $16
Target Clearlake Rug, $190