How to Nail the 'Grammable Floral Arrangement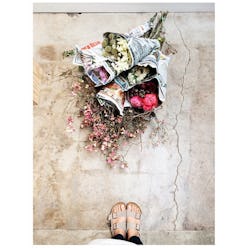 Whether you've just finished spring cleaning and want to spruce up your beautifully spare space or are expecting guests for the holiday weekend ahead (T-minus three days!), every modern girl needs to know how to put together a gorgeous floral arrangement on the fly. To that end we caught up with LA florist Maggie Carson Romano of The Bosky Dell for a lesson in working with the season's most in-demand flower: peonies.
Get Some Flower Power
Photos: @theboskydell
What To Look For
"Peonies grow in a wide variety of colors, textures and sizes so there's no shortage of what sort you can end up with. If you're lucky enough to find rare varieties, like tree peonies, splurge on them—I promise the cost will be worth it! Look for tighter and firmer buds since they'll open up at home and last longer, and check the leaves on the stems to see if they are browning or dried out. Healthy leaves are a great way to know which batch is the best."
When You Get Home
"If you want to keep them from opening, wrap the stems in a wet cloth or paper towel and then lay them flat in your refrigerator. They will keep for up to a day this way—sometimes even longer. When you are ready for them to burst open, give them a fresh cut and place in water. Remove any leaves below the water line, and if you have flower food, use it. If the bud is entirely closed, carefully pinch off the green petals at the base of the blossom. I usually leave the petals on a few buds to allow them to open more slowly."
Arrangement Tricks
"If one of the blossoms in your bouquet is perfect, let it stand alone. I always keep a few of my favorite vases on hand for exactly this occasion. And if the bunch leans in one direction, just let them. It looks casual and beautiful."
Style Them With
"I always keep a range of unusual fillers on hand so that I can make my arrangements more sculptural. Dogwood branches are great to add structure to an arrangement. Hellebore is another filler that works beautifully with peonies as their leaf structure and texture are very similar. Bridal Veil, also known as Spirea, is another of my favorites to work with. Their woody curved stems are speckled with white flowers and can be used to extend the structure of an arrangement in a delicate and ethereal way. You can also cut the stems short and use the tips to fill small gaps between blossoms."
Make Them Last
"Keeping your peonies as cool as possible and away from direct sun allows them to last. They will often slowly lose their color as they age, which only adds to their beauty."