Ghent Is The Under-The-Radar Belgium City You Must Visit In 2023
traveler1116/E+/Getty Images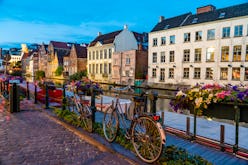 Travelers heading to Belgium almost always visit Brussels and maybe do a day trip to Bruges or take the train to Antwerp for the weekend. But few carve out ample time — or any at all — for Ghent. This charming northwest Flemish city was one of Western Europe's powerhouses back in the Middle Ages. Fast forward to the present, it's a low-key cultural hub with canals, medieval buildings — including a storybook castle — a clutch of vegan food that's completely surprising, and a youthful zeal that beautifully contrasts the centuries-old architecture.
The fact that Ghent doesn't have the same tourism notoriety as some of its neighbors keeps the crowds at bay and allows it to retain a sort of in-the-know appeal that's rare compared to so many other well-trodden European destinations. And, just because it's lesser-known doesn't mean this isn't less Instagrammable than its more popular counterparts. Just like the aforementioned Brussels and Bruges, Ghent is chock-full of cobblestone streets, brightly colored buildings, and full-bloom florals that cover the city.
Ready to book your next summer getaway? Scroll on for the best things to eat, drink, and do in Ghent — and you'll quickly realize why it's the unsung hero of Belgium.
What To Do
History lovers will delight in the majestic castle Gravenstein, which dates back to 1180 AD. After serving as the residence of the Counts of Flanders until 1353, this storybook structure had many lives — namely as a court, prison, mint, and cotton mill. Today, visitors can wander through restored corridors, tower stairs, and large rooms while listening to a comedic audio tour packed with interesting facts and funny commentary.
And if you have a think for dragons, pay a visit to the fiery creature that crowns the belfry tower Het Belfort van Gent, standing as a symbolic guardian of the tower — and more broadly the city's independence. Visitors can actually climb (or take the lift from the first floor) all the way to the top of the building for sweeping views.
And then there's the 10th-century Cathedral of St. Bavo, which isn't just striking from the outside. The interior of this historic parish church is chock-a-block with Flemish paintings — perhaps most notably The Conversion of St. Baaf altarpiece by Peter Paul Rubens.
It's also worth checking out Ghent City Hall before moving on to the next step of your historic sightseeing tour of the city center. The Graslei is a historic quay lined on the right bank of the Leie (also called Lys) river. It sits opposite Korenlei. The photogenic and now pedestrianized medieval port has become a popular spot for tourists (and, sure, some locals) to walk along the water, admire the ornate guildhalls, go for boat rides, and sip Belgium beer at the many cafés.
Eat & Drink
Yes, you can — and totally should — eat your way through all the traditional food. One of my favorite spots, Mémé Gusta serves classic Flemish fare like croquettes, vol-au-vent, and beef stew in a space that looks like a warm living room in a vintage house. The cozy environs and comforting cuisine continue at 't Klaverblad. For an elevated epicurean experience, reserve a table at Michelin-rated Karel de Stoute or Roots.
After clearing many carnivore-oriented plates and dabbling in the chef-ier side of the dining scene, please consider making a culinary right turn of sorts. The abundance of veg-forward food is a point of pride in Ghent. It's something that really differentiates it from the rest of the culinary landscape in the country. So, basically, if you don't at least give it a shot…well, let's just say that would be a rookie mistake.
A great spot for lunch before or after visiting Gravenstein, BOON slings salads, sandwiches, and soups with a side of organic sourdough bread. In full transparency, the design — painted plaster walls, exposed wood ceilings, hanging flowers, and flickering candles — is just as much a reason to dine at Epiphany's Kitchen as the mushroom croquettes and gluten-free pasta. Obviously, everyone knows about Belgium chocolate. Getting to indulge within the borders just tastes even sweeter. Want something super decadent? Try the almond pralinés and caramel ganache topped with fleur de sel from Hilde Devolder Chocolatier.
It wouldn't be a trip to Ghent (or anywhere in the country for that matter) without sampling some beer. Dulle Griet pours over 500 different brews and also does tastings. The extensive beer list brings out-of-towners and residents into Trappistenhuis. Surely, the exposed brick walls and authentic atmosphere keep patrons hanging around for while longer. On the non-boozy beverage front, I personally loved starting the day with coffee (and croissants) from WAY Plantbased Bakehouse.
Where To Stay
While many people do Ghent as a day trip from Brussels or even Bruges, it's a destination deserving of a weekend getaway. If I've done my job and convinced you to spend a few nights, then the next step would be finding a place to stay. A heritage landmark turned boutique hideaway, 1898 The Post is a gem that's hidden in (almost) plain sight. Located between Korenmarkt Square and the Graslei, this intimate 38-key hotel takes up residence in a little corner of a grand building that was built for the 1913 World Expo and functioned as the city's main post office. Inside the neo-gothic facade, things are more modern but with definite nods to its storied postal past. Antique writing desks are topped with accouterments for penning letters, vintage volumes fill the bookshelves, and an honor bar fashioned to look like an old study awaits.
Set inside an opulent mansion that once belonged to a wealthy poet, Pillows Grand Boutique Hotel Reylof oozes baronial grandeur with Louis XIV-style furnishings, gold accents, and salons that induce the urge to strut around as though you're wearing a jewel-encrusted crown (or, perhaps, an old-timey velvet hat that I'd imagine the previous noble resident used to rock). There's also a gourmet restaurant, a swish bar, and a posh spa in the former carriage house. The 156 bedrooms, including 29 sumptuous suites, very much live up to the resplendence of the rest of the property.