I Toured The Galápagos Islands On A Luxury Yacht
Shutterstock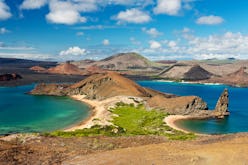 Located 600 miles away from the Ecuadorian coastline, the remote, volcanic Galápagos archipelago is often called a living laboratory of evolution. As Charles Darwin discovered nearly 200 years ago, natural oddities like cormorants that forgot how to fly and iguanas that learned how to swim have successfully adapted to their individual — and often inhospitable — habitats in order to thrive in a place where islands are constantly eroding and expanding. Here, what doesn't kill you makes you more diverse. You might think such an environment would prove harsh for human visitors (and historically, it has). But we, too, have learned to adapt — thanks to a little help from luxury expedition yachts.
In the case of Ecoventura's vessels, the only ones in the Galápagos that are members of Relais & Châteaux, travelers can enjoy the lowest guest-per-guide ratio in the islands, hotel-worthy amenities, and a decadent, sustainable menu with local dishes. Because the Galápagos are one of the largest marine reserves in the world, touring the park's riches by sea is undoubtedly the way to go. Sailing with Ecoventura also offers you the chance to go deeper — literally. Certified scuba divers can extend their trip on the company's sophisticated live-aboard Galápagos Sky, which anchors at the bucket list dive sites of Darwin and Wolf, considered by many to be among the best in the world for their schooling hammerheads and other prolific pelagic life. This is what it was like to spend two weeks cruising around paradise.
Exploring A Priceless Natural Treasure
With land-based excursions limited to the five islands that can be reached within one day, boat-based routes provide travelers the opportunity to uncover the most remote and exclusive parts of the Galápagos, where few humans have ever set foot and every moment of isolation feels like a true privilege. On Ecoventura, alternating itineraries last eight nights and seven days, with a choice of the younger, volcanically active islands in the west or the older, eroded islands in the east. Not only are these cruises the more luxurious option, it's the best choice for the environment; routes are strictly dictated by Galápagos National Park officials to mitigate crowding and environmental stress, and Ecoventura is especially renowned for its numerous sustainable certifications.
On board the intimate 20-passenger Evolve, Ecoventura's newest vessel, I set sail from San Cristóbal through the beaches and bays of the wondrous eastern islands and enjoyed a week of unforgettable experiences. At Floreana, I watched Galápagos green sea turtles mating in the surf and rode a panga (or zodiac) alongside a flock of flamingos. On Santa Cruz, I visited the Charles Darwin Research Station, where giant tortoise hatchlings are reared from birth before being repatriated to their native islands. At Bartolomé, I snorkeled with Galápagos penguins, the only species found north of the Equator. On North Seymour, I never quite knew where to look, as blue-footed boobies and frigates simultaneously flaunted their brightly-colored feet and scarlet gular pouches, respectively, trying to attract mates. In the Galápagos, wildlife is constantly putting on a show.
When I had to pull myself away, Evolve was the best possible place to rest and recharge. Equipped with an outdoor rain shower, beds worthy of a five-star resort, and a jacuzzi, the entire vessel felt spa-like, and it was easy to make myself at home (if my home was a glamorous yacht, that is). Each evening I had a ritual of settling in on the deck with a spritz to watch an epic sunset before heading down to the dining room for a five-course plated dinner featuring local specialties like pancetta in a guava and pineapple BBQ sauce and Galápagos prawns poached in citrus butter. By the time the first half of my trip had ended, I had seen and done more than on 99% of my vacations, while also managing to totally spoil myself.
Diving Into Adventure At Darwin, Wolf, & Beyond
Your typical dive boat is more about function than form — but scuba has its indulgent moments, too. On the Galápagos Sky, a 16-passenger yacht, divers swim in the shadow of giant manta rays, go fin-to-fin with impish sea lions, and explore the eroded, subsurface volcanoes of Darwin and Wolf where whale sharks migrate every year; all without leaving creature comforts like turn-down service, a full-service bar, Apple TVs, and made-to-order omelets.
Our cozy cabins were meticulously cleaned up in between dives (a lifesaver when you're in and out of swimsuits and tracking water everywhere) and coffee delivered to us with the early morning wakeup call, exactly the way we requested it. But the real magic happened on the dive deck, where the entire crew pitched in to prep our gear, dress us, and wash everything after welcoming us back. (As a fellow passenger put it, "You know it's good service when the captain himself helps you with your wetsuit.") Every dive ended with a warm outdoor shower, a cup of tea or cinnamon hot chocolate, a homemade snack, a fresh towel wrapped around you, and best of all, lively conversation with everyone onboard about what we had spotted beneath the waves.
Naturally, a top scuba live-aboard should be filled with the greatest extravagance of all: life-changing, soul-shaking diving. Our brilliant instructors gifted us with 18 dives around the archipelago, focusing on the little-visited outlying islands of Darwin and Wolf where a confluence of nutrient-rich, sweeping currents deliver breathless encounters with pelagic megafauna. Clinging to underwater boulders, we marveled as a school of nearly 100 hammerheads — some heavily pregnant — gently undulated past us. Enormous, shimmering bait balls became mazes that we gently finned through. During safety stops, we played with sea lions and dolphins. At the western island of Fernandina, we dove with endemic marine iguanas — the world's only seagoing lizards — as they fiercely clung to rocks foraging on algae.
Each dive was totally unique, and yet each time we emerged more in awe of — and in love with — this wild stretch of pristine ocean.