How To Make The Perfect Frozen Cocktail, According To LA's Coolest Downtown Restaurant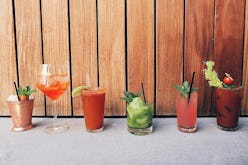 Otium, located in downtown Los Angeles next to the Broad Museum, is what we'd describe in technical terms as "über cool." It has an airy, rustic, elegant vibe, all high ceilings and perfectly placed greenery. And their cocktails basically make us want to do an exaggerated chef's kiss (but we won't because we try not to embarrass ourselves at nice places). One of their newest drinks is a frosé alternative called the Frojito (aka frozen mojito).
"The frozen drinks are a guilty pleasure of mine," says Chris Amirault, the bar director at Otium. "I think it's super fun to take a drink that most guests have a very specific idea of [in terms of] appearance and flavor, and flip that on them. For this Frojito, I wanted to take a classic summer patio crusher and make it more fun. So we thought, why not freeze it? It's frozen, crushable and a cocktail that most people can identify with."
Chris shared his Frojito recipe with us—and it's surprisingly easy.
Cheers!
Otium's Frojito Recipe
Ingredients: 1 oz. Caña Brava rum 1 oz. Plantation Pineapple rum 1 oz. lime juice ¾ oz. simple syrup 8 mint leaves
Directions: Combine all ingredients with crushed ice and blend. Garnish with a mint sprig.