The 12 Best Movies About Female Friendship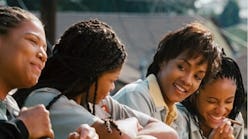 We're well into the age of the Bechdel Test (the commonly accepted criteria for whether or not a movie can be considered as treating women fairly has actually been around for 30 years), and yet it's undeniably true that most movies still don't even come close to passing it. The fact is, all too many movies to this day revolve around men's needs, wants, and concerns, with women's desires being pretty much limited to the pursuit of a man.
Of course, there are some shining moments of feminist friendships on film, as I was so recently reminded when watching Korean psycho-sexual thriller The Handmaiden; it's pretty much a perfect movie, to be quite frank. And definitely one of its highlights is the relationship—complicated, empowering, semi-insane, but totally beautiful—between its two lead characters. This got me thinking about other films which capture the at times infuriating, often rewarding, but always worthwhile relationship reality between women. Here then, are 12 films which capture female friendships in their often imperfect glory in a realistic (okay, sometimes surrealistic), relatable way.
Check out the original article on Nylon.
Set It Off
Sure, a film about four close friends who decide to embark on a series of bank robberies might not initially sound that relatable, but listen a little more closely, because this film is actually a powerful testament to the way that oppressed women who live under the constraints of the white supremacist patriarchy can join together to fight the system. It doesn't exactly end well for most of the women involved, but, you know, that's fine. Life can completely suck, and it's still essential to make the kind of connections with other women that remind you about what makes the whole crazy thing worthwhile anyway.
Drop Dead Gorgeous
I have to admit that I have no idea what it's like to either participate in a beauty pageant or live in the midwest, but I'd like to think that it's something like this super-dark comedy from the late '90s, which so perfectly captures not only the frenemy situation that so many young women have with one another but the straight-up friendship that others--like the character played by Ellen Barkin and Allison Janney-- have, wherein they'd do anything for one another, including lighting each others' cigarettes after a terrifying mobile home explosion. Come for the amazing Minnesota accents, stay for a young Amy Adams killing it as, um, a free-spirited cheerleader.
Four Months Three Weeks and Two Days
Some friendship movies are lighthearted romps (see: Bridesmaids or Romy And Michelle's High School Reunion), and then others deal with really important issues about what it means to be a woman. This Polish film is definitely in the latter camp, revolving, as it does, around the quest by one young woman to help her friend find someone willing to perform an abortion for her. It's harrowing look at what it means to live in a country wherein women don't have adequate access to health care, and a true testament to what friends are willing to do for one another: everything.
Waiting to Exhale
It's dispiriting, if not completely surprising, that even in 2017, movies with black female leads, like Hidden Figures, are not thought to be capable of achieving blockbuster status. Does nobody remember Waiting to Exhale? This hilarious, heartbreaking emotional roller coaster of a film centers around the triumphs and travails of four women who work to support one another as their lives--particularly where it concerns love--goes in all different directions. Oh, and the soundtrack, featuring one of the film's stars, Whitney Houston, is predictably amazing.
Ghost World
Not every friendship story is going to end with the friends, but that's kind of reflective of what happens in life, isn't it? Especially when talking about the friends we make in high school. Such is the case with Ghost World's Enid and Rebecca, perfectly played by Thora Birch and Scarlett Johansson in her first breakout role. The duo starts the film with a mutual sense of cynicism for the world at hand, but they grow apart as the narrative progresses, making for a very relatable story of growing up and growing apart, without ever really being able to pinpoint exactly why.
Nine to Five
Name a more iconic trio than Dolly Parton, Jane Fonda, and Lily Tomlin? I'll wait. Oh, right. You can't. That's because these three feminists in the workplace completely rule as they work to get rid of their misogynistic asshole of a boss. With coworkers like these, women can take over the world.
The Handmaiden
Ah, the inspiration for this list, the inspiration for, like, everything moving forward, basically. The female relationship at the heart of this film is one founded on mutual deception, potent betrayal, and a redemptive arc that ends with one of the most triumphant acts of revenge ever seen in cinematic history. Just watch. You'll see.
Tiny Furniture
Sure, Lena Dunham is much better known now for the female friendship she's created on HBO's Girls, but what makes her debut film so relatable when it comes to female friendships, is that it shows how shittily women can treat their so-called friends, and how it easily compares to the dismissive and atrocious way men treat women. It's brutally honest, this film, and all the better for the unflinching eye it turn on millennial New Yorkers.
Heavenly Creatures
Hmm... so probably don't model any of your female friendships on that of this IRL murderous duo, but do watch this movie, starring babies Kate Winslet and Melanie Lynskey, who perfectly capture the intensity of the bonds that exist between otherwise outcast teenage girls. We're talking romantic undertones (and sometimes straight-up overtones), the creation of fantasy worlds, and a desire to rebel against uncomprehending parents. It's spot-on. (Until the murder that is.) For a similar cinematic ride, check out baby Emily Blunt in the exquisite My Summer of Love.
The Craft
We now live in the age of literally every women's gathering, from high-end private social club to hanging out with the girls on a Sunday night, being described as a coven, but this film set the stage for the modern-day coven as we know it, and we still always love it. Sure, this is another movie in which the friendships don't end particularly well, but, you know, nothing's perfect, and you still get to vicariously enact a lot of revenge fantasies against mean girls with this film, so why not give it a chance, call the corners, and check is out?
Heathers
Perhaps what's even more important than celebrating healthy female friendship is celebrating getting out of toxic female friendships. That's what you can do when watching Heathers; cheer on Veronica as she abandons her noxious group (sure, it's for the imbalanced serial killer J.D., but, again, nothing's perfect) and then finds redemption at the end of the film by befriending outcasts and vowing never again to be the kind of bitch who sports the name "Heather." Because while it might be true that to fuck with the eagles, you've gotta lean how to fly, there's no reason to be mean to your peers. Or something like that.
Thelma and Louise
The female friendship movie to end all female friendship movies (no, really, what an ending), Thelma and Louise is not only a great girls' movie, it's also an epic road trip film, and it highlights the importance of friends sticking together no matter what the consequences. Which is really the lesson from all these films, isn't it? Life fucking sucks sometimes, and there will always be people out there trying to bring you down. It's important to have people in your corner, cherish that, but also maybe think twice before going to the Grand Canyon on a road trip.
Check out the original article on Nylon.