Are Eco-Luxury Resorts The Future Of Sustainability?
All signs points to "Yes."
Courtesy of Singita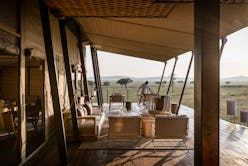 In a hushed voice, your guide tells you to look across the Serengeti. Slowly, an elephant, completely undisturbed by your presence, moves out of the bush. And then another. And another. One by one, a herd, nearly 80 members strong, lumbers in front of you. Some pick at the foliage and calves nurse on-the-go, while younger ones play — wrapping each other in their wobbly, untested trunks. It's almost inconceivable that 20 years ago, this thriving tract of land was barren; robbed of life by those who placed a quick profit over the priceless gifts of Africa's most renowned ecosystem and the home of the Great Migration.
Alongside the non-profit Grumeti Fund, ecotourism and conservation brand Singita turned this Western Corridor of the Serengeti, including its 350,000-acre Singita Grumeti reserve, into the flourishing wilderness it is today. Plains game has quadrupled since 2003, with a 1000% increase in buffalo. Poachers' snares lines no longer fill the concession — instead, each season, innumerable herds of wildebeest do.
Singita Grumeti's story is special, but it isn't singular. Driven by its 100-year-purpose of conservation and eco-conscious hospitality, it was created to help preserve and protect Africa's wilderness for future generations, beginning in 1993 with its very first property, South Africa's Singita Ebony Lodge. Currently, the brand operates in four countries — Tanzania, South Africa, Zimbabwe, and Rwanda — in partnership with individual conservation Funds & Trusts.
Today, Singita's mindset has proven prophetic. A recent survey by Booking.com found that four out of five global travelers agree that sustainable travel is a priority, with 78% aiming to stay at a sustainable property at least once a year. As public demand for eco-friendly travel grows stronger, more resorts are responding with initiatives like recycling, low-impact construction, and farm-to-table dining.
"We are seeing more hotels and resorts stepping up to become active players in the transformation of the travel industry, in large part because it's clear that business as usual is not working, and they want to be part of the solution," says Nina Boys, vice president of sustainability at Beyond Green, a portfolio of properties that exemplify sustainable tourism leadership. "Sustainability is also increasingly becoming a driving factor in traveler decisions about where they go, where they stay, and which businesses they support; and higher-end properties may have the additional influence and funding needed to help scale impact."
An elite few are ahead of the curve, running multi-faceted programs that truly have the chance to save wildlife and alter our carbon footprint, rather than trying to impress guests with toothless greenwashing. But saving the world isn't cheap — where does all that money come from?
Funding Conservation
Another key detail about Singita's camps and lodges: They're among the most exclusive in Africa. During peak season, a standard suite at Singita Faru Faru will set you back $2,785 per person per night. If that price tag gives you sticker shock, remember that these five-star-plus resorts are so much more than a playground for the uber-wealthy. Singita's independent Funds & Trusts employ some of the best conservation and community development experts on the continent.
"Increasingly, governments and states are finding it harder and harder to secure the budget to be able to manage these protected areas," says Inge Kotze, Singita's general manager of conservation. "The private sector is becoming more important as a funding partner for these protected areas. They're more agile, and they have greater networks and trust at a time when there's really low confidence across the globe in terms of systemic government corruption." In South Africa, for example, where poaching has decimated the rhino population, the majority of individuals now reside in heavily guarded private sector reserves such as Sabi Sand, where Singita has multiple properties. "The [reserves] still have the resources and the budget to safeguard those species," says Kotze. "They are seen as the short and medium-term solution to keeping a viable, sustainable population of rhino alive and breeding."
Across the world in French Polynesia, Oscar-winner Marlon Brando — an avid environmentalist — learned a similar lesson after purchasing the Eden-esque atoll Tetiaroa as a personal retreat, turning it into a small, non-profitable eco-resort in the 1970s. Today, the actor's dream has evolved into the $4K-a-night The Brando, the first property in the industry to be awarded LEED Platinum certification for its carbon neutrality, and the home of the Tetiaroa Society, an onsite nonprofit dedicated to studying and conserving the atoll that's subsidized by both a fixed donation and a variable one, based on occupancy.
"There were never any funds to do the sorts of things Marlon Brando wanted to do," says Frank Murphy, executive director of the Tetiaroa Society. "Richard Bailey [the developer of The Brando and chairman and CEO of Pacific Beachcomber, S.C.] realized that you need to have a resort that makes money in order to do something for Tetiaroa. That was the beginning of the idea of a high-end resort helping to fund a conservation and education non-profit." While Brando's cheap and chic iteration of the resort-meets-NGO model didn't pan out, the upgraded model has. In a string of recent wins, the Tetiaroa Society has eradicated invasive, chick-eating rats on many of its islands, increasing the white tern population by 100%.
Spreading The Wealth (And The Word)
Luxury resorts are uniquely positioned to help in another way — leveraging their clientele's deep pockets. For Singita's Funds and Trusts, funding is derived in the form of donations from Singita guests, NGOs, and philanthropists seeking to make a lasting contribution to the sustainability of conservation work in Africa. The Tetiaroa Society also relies on this generosity. In between indulgent spa treatments, guests are encouraged to take in-depth tours led by Tetiaroa Society guides to help them connect with nature and learn about the remarkable atoll surrounding them. They might kayak with baby blacktip sharks, collect vital data on nesting boobies and terns, and go behind the scenes to discover how an innovative sea water air conditioning (SWAC) system is used to cool your villa. "It's part of wealthy people's business to give their money away," says Murphy. "When they spend time here and see good things going on, they feel like you're going to put their money to good use. That's a win-win situation for everybody."
Some guests are positioned to provide more than a one-time donation. "Often the guests who come through are the kind of people that you want to have connections with when you're a nonprofit," says Murphy. "Some of them have their own foundations. And a lot of those people find out how great The Brando is, how amazing Tetiaroa is, and they want to come back and support us." A powerful example of what these long-term relationships can bring is the Blue Climate Initiative, a UN-endorsed program that harnesses research and innovation to accelerate ocean-based strategies to combat climate change. Sponsored by the Tetiaroa Society and born largely from conversations and connections with prominent guests, the initiative resembles a think tank of the industry's top boldface names and academics, such as Sylvia Earle and H.S.H. Prince Albert II of Monaco.
"We realized early on that no matter what we do on Tetiaroa, we may not be able to save it in the face of the climate crisis," says Murphy. "It's not just Tetiaroa, of course — it's every coral reef and tropical island in the world. So we decided that we needed to have a global impact. It's our partnerships that fostered the Blue Climate Initiative, because we have a constant stream of influential people coming through The Brando all the time. We get to FaceTime with them, talk about issues, create contacts, and build what's now a very powerful global nonprofit working on climate change. From this little tiny island, we've produced something that's really important."
Making A Positive Impact
Successful eco-luxury properties like Singita and The Brando have coined a name for this strategy: high-value, low-impact tourism. In other words, because Singita offers such an exclusive product, they can afford to reduce volume (their lodges and camps range from seven to 15 suites each) and make conservation a priority. Of course, altruism isn't a prerequisite for luxury. Plenty of expensive resorts charge four-figure room rates without doing anything for the environment. In fact, the Greater Serengeti-Mara ecosystem is one destination where thoughtless high-impact tourism is taking a toll.
"The pressure of lodges being built in prime grazing areas has started to have a negative effect on the Great Migration," says Matt Perry, the Grumeti Fund's general manager of anti-poaching and conservation. "There's also the pressure of the sheer numbers of tourists and vehicles. Right now as we speak, this is a real talking point for the National Park. What are the implications of sustained mass tourism? All the data and science is telling us it's going to have long-term impacts on biodiversity."
Many conservationists believe that Singita's low-impact conservancy model (in which land is managed by an individual landowner, a corporate body, a group of owners, or a community for purposes of wildlife conservation) is the way forward, allowing the land's conservator to set prudent rules such as vehicle limits, better protect wildlife from poachers, and quickly respond to tourism-development plans that are in line with conservation objectives. Singita is far from the only brand in Africa to adopt this model, and for good reason: Studies show that wildlife fares better where tourism is more regulated. For example, female cheetahs in the Masai Mara raised fewer cubs than cheetahs in the conservancies, according to a 2018 report in the scientific journal Ecology and Evolution.
People — and governments — are paying attention. In fact, in 2014, Paul Kagame, the president of Rwanda, personally invited Singita to open a lodge in Volcanoes National Park in partnership with the Rwanda Development Board.
Building A Conservation Community
But effective sustainable tourism leadership doesn't begin and end with impact reports. According to Boys, it also requires, "expanding the definition of sustainability to include support for the protection of natural and cultural heritage and contributions to the social and economic wellbeing of local communities. It is when hotels connect these dots, empower employees to help create and lead initiatives, and engage their guests in the process, that a more holistic, long-lasting impact can be achieved."
That's a major reason why Singita develops individual Funds and Trusts in each country it operates. There's no formula that could be applied across the Grumeti Fund, Zimbabwe's Malilangwe Trust, and South Africa's Singita Lowveld Trust. Each has its specific context, challenges, priorities, solutions, and — of course — people. "Anyone starting out in a new property or a new conservation project needs to take their time to absorb and digest the challenges that the region is faced with," says Perry, who joined the Grumeti Fund in 2008. "You need to get down to the grassroots to understand exactly what's going on before you come up with a broader conservation plan and community development plan. You cannot perform in one area and not the other."
Today, much of Singita's focus is on education, diversified income opportunities, and environmental outreach. At Singita Grumeti, over 120 poachers have been converted to game scouts, Malilangwe Trust's nutrition programme provides 20,000 children with a meal before school every day, and three Community Culinary Schools have been created across the continent.
"The most important component of our tourism model and the key priority for all of us as trust-and-fund partners is making sure that there's social-economic benefit for the neighboring communities," says Kotze. "They've got to very tangibly benefit from living alongside these protected areas. I think that is the absolute nub of getting these high-impact, low-value models right."
Expanding The Vision
From The Brando's Blue Climate Initiative to Singita's ambitious push to reintroduce critically endangered Eastern black rhinos, luxury eco-resorts' projects are becoming more visionary and bigger in scale than ever before. Recently, the Maldives made news for its national ban on single-use plastics. Behind the scenes, Sonu Shivdasani, CEO and co-founder of Soneva, a luxury resort brand started in the Maldives, had been steadfastly campaigning the government for the change since opening in 1995.
"It has always been a dream to support and guide the country towards more sustainable practices," says Shivdasani. "Over the years, our work with the local government has become an integral part of what we do. We are thrilled to be working with like-minded individuals to set a blueprint for better practices as a nation."
Launched in 2019, Soneva Namoona — a partnership between Soneva Fushi's three island neighbors of Maalhos, Dharavandhoo, and Kihaadhoo and Soneva — aims to help all Maldivian islands, where toxic open bonfires are common practice, properly dispose of waste. In 2021, seven more islands from the Noonu and Baa Atolls joined the initiative.
"In February 2020, we celebrated another Maldives' first: Maalhos became the first island in the country to end the practice of burning its garbage in open bonfires. This was made possible by the opening of the island's Eco Centro waste-to-wealth center, funded by Soneva and modeled on Soneva Fushi's own Eco Centro."
A Win-Win For The Future
In destinations where climate change threatens lives and livelihoods each day with rising tides and ocean acidification, and the loss of biodiversity could mean the collapse of an entire habitable ecosystem, resorts don't invest in the well-being of their communities simply because it's the right thing to do — but because they must.
"Sustainability is not a nice-to-have anymore," says Kotze. "It's fundamental. In my lifetime we've lost around 70% of our biodiversity and habitats. And when you look at how important it is for us, our economies, our well-being, you start saying, 'It's not just about protecting the 30% that's remaining. It's about clawing back what we've already degraded.' Nature-based tourism in Africa is an absolutely critical model for doing that."
Taking care of the environment also becomes essential as a matter of business when nature is one of the unique selling propositions of your resort, according to Shivdasani.
"Our beautiful destinations are responsible for providing the local produce that we serve in our fine dining restaurants, as well as the wildlife that entices guests to go snorkeling and diving. Biodiversity loss and climate change are major environmental issues that need to be addressed as a matter of urgency."
At the end of the day, the relationship between an eco-luxury resort and its non-profit ventures is co-dependent.
"For me, it's a symbiotic relationship," says Murphy. "In a place like Tetiaroa, a luxury hotel that doesn't operate sustainably is putting the entire ecosystem at risk — and that's why people go there in the first place. It makes sense from every angle. We're in a magical situation where we have this incredible island mostly to ourselves. And we have to take care of it. We have to."