A Dior Wellness Cruise Is Sailing Through Paris During Haute Couture Week
Courtesy of Dior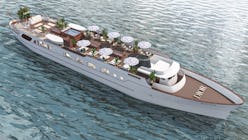 Back for another voyage, the Dior Spa Cruise 2023 will be passing through the Seine on July 3 through the 14th. Aligned with Haute Couture Week, the ship will serve as a welcome respite from the hustle and bustle of the city, offering LVMH-level services that epitomize luxury and relaxation, all against a stunning Parisian backdrop.
Moored at Port Henri IV, the 11-day event will include two main 2-hour treatment options, or "cruises" according to the Cheval Blanc site. While both include one-hour relaxation sessions on the deck, the Treatment Cruise features a one-hour beauty treatment focusing on the face or body. Four body and three facial options are offered on the ship, with different ones highlighted on various days, according to the program's themes — Detox, Balance, Reverse-Aging, Power, and Relaxation. The Wellness Cruise includes activities like Pilates, yoga, mobility, detox flow, HIIT, or respirology and postural stretching. For a longer session, guests can combine both treatments, all of which are spearheaded by experienced experts and practitioners.
The yacht itself, appropriately named the Stunning Excellence, includes four treatment cabins, one double cabin, a fitness area and juice bar, and relaxation deck and pool (the latter is a first for the experience, which is now in its second year) for optimum sightseeing of the city's iconic monuments like Notre-Dame Cathedral, the Louvre, the Grand Palais, and the Eiffel Tower.
Prices for the cruises range from €280 to €960 and can be booked now on the Dior Spa Cruise page.