Now's The Time to Visit North Jutland, Denmark's Hygge Haven Of Natural Beauty
The most Instagrammable vacation, ever.
Mette Johnsen/Danish Media Center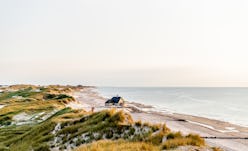 Remote and full of natural wonders, North Jutland is made for travelers looking to venture off-the-beaten-path in search of breathtaking outdoor scenery by the idyllic seaside. Now, with Scandinavian Airlines' new route from Newark Liberty International Airport to Aalborg (North Jutland's largest city), it's easier than ever for Americans to visit this lesser-known region. During the summer, the direct flight will take off three times a week from EWR. For the ultimate luxury experience, opt for the intimate Business Class cabin, equipped with lie-flat seats, free hi-speed Wi-Fi, chair massages, and a line-up of Scandinavian toiletries and products. Snuggle up in premium Hästens bedding while sipping a Harahorn gin and tonic, and you're well on your way to a chic Nordic vacation already.
A more convenient route to Denmark's underrated, spectacular north has been a long time coming. In recent years, North Jutland's culinary gems have been garnering more attention, as innovative restaurants like Tri and Okê vie for national awards and Michelin stars. Meanwhile, a spate of trendy badehotels — traditional seaside inns that practically embody the word hygge — are opening up North Jutland's wild wonders, from massive dune formations in Thy National Park to Europe's top surfing hotspot, to more travelers. Here's how to get the adventure started.
Get Cultured In Aalborg
The capital of North Jutland, Aalborg has evolved into a vibrant cultural gem worthy of a special visit. (The New York Times even named the city one of its top places to go in 2019). Centered around the stunning Limfjord where Vikings once sailed, today Aalborg's stylish waterfront showcases ground-breaking Nordic architecture such as the Utzon Center, the last building by the architect behind the Sydney Opera House Jørn Utzon, Musikkens Hus, home of the Aalborg Symphony Orchestra, and Vestre Fjordpark, where locals swim, bathe, and kayak in the sparkling fjord. Nearby, Kunsten Museum of Modern Art, the only museum building outside Finland designed by Alvar Aalto, boasts a collection of over 4,000 modern and contemporary works by artists including Le Corbusier, Michael Kvium, and Olafur Eliasson.
Stay at Hotel Pier 5, a recently renovated property that's also part of the rebirth of the old port district. The sleek rooms with panoramic views of the fjord are reason enough to book; the onsite Vaerft cocktail bar, featuring Danish-produced spirits and molecular gastronomy-inspired recipes like the SnowFlake — with aquavit, dill, white chocolate, cream, and raspberry — will make you want to stick around past check out. For dinner, don't miss Restaurant Emil, a new casually elegant seafood spot that serves what comes in with the tide, whether it's fried lobster cheese balls or plaice in a thick sauce of baked onions.
On your way out of town, stop by Regan Vest, an astonishing museum that's half secret nuclear bunker, half Danish design time capsule. Built at the height of Cold War tensions in the 1960s, this top-secret atomic hideout for government officials was only recently revealed to the public; now you can explore the subterranean maze of curving passageways, war rooms, and pristine mid-century furniture on pre-booked guided tours.
Discover Natural Beauty & Gastronomic Treasures On The Northwest Coast
Once a series of modest fishing villages, the scenic coastline between Agger and Hanstholm in Thy and North Jutland attracts a different crowd these days. Dubbed Cold Hawaii for its excellent wind conditions, the charming area has become a haven to a laidback colony of surfers and creative, independent businesses that some locals describe as what you'd find in "Brooklyn 20 years ago." After spending the day catching waves with WestWind Klitmøller, warm up with some goat cheese crepes at Kesses Hus and taste the award-winning single malt at Thy Whisky. Save room for dinner at Restaurant Tri, a new Nordic restaurant that emphasizes local ingredients and clean flavors in elevated but unpretentious dishes like stone crab tarts with thinly sliced gherkins and mushroom and honey ice cream.
Further north in the town of Løkken, you'll have the opportunity to explore the rugged side of the coast in total comfort with Outnature on a Land Rover or UTV safari. Speed along the beach while cozied up in wool blankets, stopping only to marvel at the dunes and historic WWII bunkers. At the end of your ride, enjoy a picnic on the sand with a bonfire, hot chocolate, and freshly-baked Danish treats.
Ready for a little shopping? Jan Jørgensen ranks as Denmark's largest supplier of diamond jewelry, and even designs for the royal family. Stop by his boutique in Blokhus for the master goldsmith to make you a custom piece. Settle in for the evening at Strandhotellet Blokhus, an exclusive bade hotel perched just meters from the beach.
Live The High Life In Skagen
While much of North Jutland can be described as up-and-coming, Skagen — Denmark's northernmost town — boasts a rich history of catering to the country's elite, including the Danish royal family and the Kristiansen LEGO empire. King Christian X even built a summer residence there (which you can still admire today). There's no better place to see and be seen than Ruth's Hotel, an iconic property that dates back to 1904. Unwind in the wellness area's steam bath and sauna, enjoy a cocktail made from the house-made gin, and have dinner at Okê, which is currently in the running for Denmark's best restaurant for its decadent tasting menu featuring dishes like Thy lamb and smoked eel.
During the day, get a sense of Skagen's fascinating past on a private bike tour with local guide Claus Bruun, stopping by highlights like the surreal Sand-Covered Church, Skagens Museum, where you can learn about the Danish painters who moved to Skagen for its flourishing social scene and excellent natural light, and Brøndums Hotel, which has hosted prominent guests including Hans Christian Andersen and Karen Blixen.
At the end of your journey, wander out to Grenen, a long sandbar spit that extends into the ocean. A protected nature reserve, this phenomenon marks where the North and Baltic Seas meet, making it one of only a few places in the world where you can physically watch the waves from two seas collide. Like so many things in North Jutland, the sight is unexpected and wildly beautiful.