Cake-Making Just Got The Fashion Treatment, Thanks To Instagram
The meteoric rise of the aesthetically pleasing sweet treat.
Nellie Stark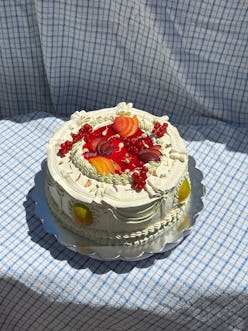 Amy Yip never wanted to be a baker. It was her parents' chosen profession, which meant, growing up, it was the last thing she wanted to do. The New Zealand native instead studied fashion and became a textile designer. But, bored in the midst of lockdowns, she found herself in the kitchen, dreaming up custom cakes of her own. "We had so much free time on our hands," she tells me over Zoom from her Bushwick studio. "I just started baking for fun. [First] they were really small cakes for friends, then it became friends of friends." She began posting her quirky, colorful, modern-art interpretations of baked goods on Instagram, and she suddenly found herself inundated with interest. So much so, that in February last year, Yip decided to pursue cake-making full-time, launching Yip Studio.
Yip is not the only one to have found her lockdown hobby of cake-making turned into a viable business thanks in major part to social media. Nellie Stark, an Oakland-based baker and pastry chef at Bartavelle Cafe found herself underemployed in 2020 and was drawn to making cakes as a hobby. "Initially I posted my cakes and desserts on Instagram to keep track of what I was doing, and to document my process," she says of Nel Cakes, her chosen name for the business. "I owe it all to an initial group of friends and acquaintances who commissioned cakes which grew through word-of-mouth and online."
The Instagram algorithm is carefully coded to show users more of what they already like — a feedback loop of aesthetic information. Cakes — whether they be towers of decadently piped frosting or sculptural dream creations — are ripe for success on the social media platform. They're conspicuous, a throw of bright color and texture. And though you can't taste the rich innards by simply double-tapping, you can still indulge in the fantasy of how good they're going to taste.
For Shelby Eastman, a creative consultant based in LA, her Covid baking hobby turned into a lucrative alternative to traditional influencer partnerships online. "I was already working with brands on a smaller scale for sponsored posts here and there," she says. "But instead of getting the usual 'we'll send you product,' it was, 'we saw you're making cakes, would you be interested in collaborating in this manner?'" Eastman, whose cakes feature playful slogans or designs, says to TZR. Having picked up her skills from her mom, who created over-the-top birthday confections growing up, Eastman's cakes offer a sense of nostalgic comfort. "It feels like being a kid again and receiving an extravagant birthday cake," she says.
But, despite the opportunity that social media can provide for a small business, the swell of interest can also prove tricky for creatives who do all of the work on their own. For Stark, now that she's back to working full time, the interest she has garnered via Instagram has become a task to manage — balancing a burgeoning side hustle with her busy schedule. "I haven't intentionally used social media as a tool to grow this, it's been gaining momentum steadily as my practice has evolved," she says. "I've become more selective about the commissions I choose to take on. I still maintain that this is more of an art practice and I am not interested in turning it into a full-on business at the moment. Not playing by any rules allows me more freedom and creativity."
For Yip, whose growth and business success can feel contingent on the delphic whims of Instagram's algorithmic codes, it would be easy to fall into a habit of like chasing. Recreating the style of cake that performs best online is incentivized, which can choke creativity and make pursuing personal interests feel risky. "Over the course of the year as the following grew, and the demand grew, there's been more pressure," says Yip, who admits that she feels torn between the pieces she loves to make, and what garners likes. "It's hard not to take things personally as a creative person. I do want to keep pushing the things that I want to make, but it's also a business."
Stark's "Ode To Summer" cake.
Blue oolong rose lychee cake.
Still, there are elements of cake-making that can't be as readily influenced by what's trending online. By looking at an Instagram photo, you can't see how creativity extends beyond the exterior of the cake. Experimenting with flavor has become a signature element of both Stark and Yip's work.
A favorite of Stark's is her "ode to summer," a corn chiffon cake with corn-infused creme diplomat layers, and fresh nectarines and blackberries, topped with buttermilk-honey, stone fruit black-pepper jam, and sweet basil buttercreams and corn husk bows. It's what she considers quintessential Nel Cakes, "very conceptual, lots of fun details, using sweet and savory elements, nostalgic and evoking memories, in this case eating corn on the cob in late summer at a barbecue ideally after swimming in a body of water."
Growing up in New Zealand, Yip didn't always have access to flavors that reflected her Asian heritage, which has pushed her to play with them in her current work — motivated even more so by the Stop Asian Hate protests in 2021. "I really embraced my culture, even more so than anywhere else I've lived, and I wanted to show that through the flavors that I chose. Matcha passionfruit, oolong rose lychee, and even durian, which should be more popular."
Posting decadent creations on the internet is in many ways an extension of what is so fulfilling about making food — it's a way to bring people together as a community. Faced with so much time alone that last few years, the ability to share food with others, albeit virtually, became a proxy for the real thing.
"[During lockdown], you weren't able to really celebrate your birthday or you'd have a Zoom birthday, says Yip. "People started wanting to make birthday celebrations more special and one way to do that was by ordering sculptural, unique cakes. Especially if they're sharing some inspiration about the birthday person and it's a representation of them." In the age of sharing every detail of life online, an Instagrammable cake allows a special occasion to live beyond a single day or a select group of people.
"Cooking and sharing food with people is what brings me the most joy," says Stark. Now, the celebration of culture, creativity, and sugar can be indulged in by all, no slicing necessary.