Crate & Barrel's New Collection Proves Vintage & Modern Decor Can Exist In Harmony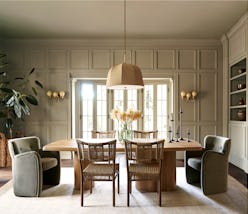 We may receive a portion of sales if you purchase a product through a link in this article.
Since we're still technically in the early parts of the year, a new years upgrade is still more than appropriate. And the timing couldn't be more perfect, as Crate & Barrel just released it's stunning collaboration with Los Angeles-based designer Jake Arnold. Touted as an "heirloom-style" offering in the official press release, the 50-piece collection strikes the perfect balance of vintage chic and modern edge.
Not sure how that hybrid shakes out in the home? Look no further than the cognac velvet sofas, botanical-printed throw pillows, and all-oak credenzas found in the launch. "There's a 1940s feel of aged aesthetics and classic notes, punctured with very intentional contemporary touches that we brought into these designs," says Jake Arnold in the press release. "We wanted to weave vintage nostalgia with a modern sensibility to create a collection of purposeful pieces that focus on timeless materials that feel lived in, but also prioritizes how we live now."
And with recent trends like "English country kitchens" going viral, it seems the demand for reimagined nostalgia has never been higher. And, to be clear, just because an item is labeled as "rustic," "vintage," "country,"or "heirloom" does not mean it doesn't align with a more modern, luxe aesthetic or home. In fact, in regards to the new Jake Arnold line, Senior Vice President of Product Design for Crate & Barrel Sebastian Brauer says, "This collection will delight and inspire our community by pushing the boundaries of what accessible modern design can be. It's anchored by iconic silhouettes and layered materials that bring a custom and luxurious feel to any room."
Take for instance, the Augie Oakwood Coffee Table. Although the piece is made entirely of oak, bringing in that rustic natural element, its sculptural silhouette reads very modern. Similarly, the Harwich Woven Rattan Dome Pendant Lights are also tying in a vintage, almost-80s aesthetic with clean, curves that are very now. "The collaboration is designed to serve as a canvas for the imagination, bringing unique ratios, silhouettes and textures for a versatile whole-home collection," says the press release.
With said versatility in mind, items range from $20 to $3000 and run the gamut from knit throws and duvet covers to storage cabinets and sofas, catering to virtually every inch of your home.
Shop the new collection now and check out a few of TZR's favorite finds below.