The Biggest Cocktail Trends That Defined Past Decades
From the 1920s to present day.
HBO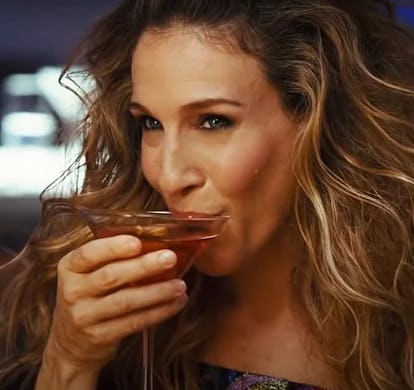 Everyone is obsessed with eras these days (and rightly so), but decades also deserve their day in the sun. And when we think about things that define a decade, our minds naturally gravitate towards cocktails. From the yesteryear of prohibition to present-day modern mixology, there's always been a drink that's encapsulated the social climate, culture, taste, trend, and glory of a particular 10-year span with one sip.
Jason Hedges, director of beverage at Laurent Tourondel Hospitality in NYC and the author of The Seasonal Cocktail explains the factors that have historically made a cocktail the breakout star of a decade from the early 1900s… and they might ring a bell. "The rise of a cocktail's popularity was influenced by various factors," he explains. "Advertising played a significant role, with brands promoting their cocktails in magazines, newspapers, and signage. Seeing famous people enjoying a particular drink also had an impact on its popularity." Yes, even as far back as the 1920s, you could never underestimate the power of celebrity.
He also attributes cocktail books and the spread of booze culture through bars and speakeasies to giving certain drinks a popularity boost. Fast-forward to present day and, aside from technology like the internet and social media increasing visibility, he attests that the influences "remain similar."
Hedges notes that a popular or era-defining cocktail doesn't always equate to something new or innovative. "Sometimes, a classic cocktail that has been around for a long time suddenly gains significant popularity during a particular era," he says. (Think the rise of the martini in the 1950s or the current reign of the negroni in present day.) "Other times, a new cocktail is created that perfectly encapsulates the tastes and preferences of that decade." He also adds that a cocktail of the decade can sometimes revolve around a specific spirit or has an "X-factor" due to a particular combination of ingredients and flavors.
Ahead, Hedges does a bit of time traveling as he breaks down each decade-defining cocktail that is now the stuff of legends in the spirits world.
1920s Singapore Sling
The world has Ngiam Tong Boon, a bartender at the Raffles Hotel in Singapore to thank for creating the Southeast Asian concoction. While delicious, Hedges attributes its popularity during the '20s to the economic prosperity and cultural revolution of the times. "People started to embrace socializing and going out to bars and clubs more frequently," he says. Referring to it as an "iconic cocktail," he adds that being refreshing, exotic, and visually alluring added to its popularity and it "became a symbol of the glamorous and vibrant lifestyle of the 1920s."
Ingredients
2 oz Gin
1 oz Cherry Heering
.5 oz Triple Sec
.5 oz Benedictine
1 oz Lime Juice
4 oz Pineapple Juice
.25 oz Grenadine
Club Soda
Cherry or Pineapple Wedge for garnish
Instructions
Add all ingredients except club soda to a cocktail shaker. Add ice. Shake then strain into an ice-filled highball glass and top with club soda. Garnish with a cherry and pineapple wedge.
1930s Gin Rickey
Hedges refers to this decade as "a trying time for the cocktail." Due to prohibition, distilleries were closed, and it was almost impossible to find good whiskey. "The Gin Rickey subsequently emerged as a popular choice because it was light, easy to make, and adaptable to the limited resources and ingredients available during that time," he explains. He also notes that its mention in F. Scott Fitzgerald's The Great Gatsby also helped the drink gain wide recognition.
Ingredients
2 oz Gin
Juice of 1 Lime
Club Soda
Instructions
Squeeze the juice of one lime into an ice-filled highball glass, and then add gin. Top with club soda and gently stir. Garnish with a lime wedge.
1940s Daiquiri
A perfect storm of elements occured to give the daiquiri a place in 1940s history. "First rum was flowing freely in the Caribbean," says Hedges. "Countless thirsty Americans made the rum cruise through the islands and brought back a new appreciation for the tropical drink. American servicemen stationed in Cuba during WWII also contributed to the spread of the cocktail's popularity." He adds that the drink's simplicity, consisting of just three ingredients: rum, lime juice, and sugar, was a factor. The cocktail got a further boost from a fan, famed writer Ernest Hemingway whose love for the cocktail, particularly the variation which includes grapefruit juice, is now referred to as the "Hemingway Daiquiri."
Ingredients
2 oz White Rum
Juice of 1 Lime
.5 oz Simple Syrup
Lime Wheel for garnish
Instructions
Add liquid ingredients to a cocktail shaker. Shake with ice and strain into a cocktail glass. Garnish with a lime wheel.
1950s Martini
Sorry Don Draper, martinis were a trend long before you. "In the 1950s the (ultra) dry martini was the cult of the age," Hedges muses. According to him, New York's Stork Club, a former speakeasy that had become the most famous nightclub in America "sold more dry Martinis than they did all their other offerings put together." And the signature gin martini got some competition. "At the beginning of WWII, vodka was a little-known novelty," he says. "By the end of the 1950s it was everywhere and equally called for in martinis."
Ingredients
5 to 1 ratio of Gin or Vodka to Dry Vermouth
Lemon Twist for garnish
Olives for garnish
Instructions
Stir gin or vodka with dry vermouth and ice in a cocktail shaker (do not shake!). Strain into a cocktail glass and garnish with a lemon twist or olives.
1960s Mai Tai
According to Hedges, skilled bartenders at tiki bars in the '60s — which were at the height of popularity at this time — played a huge part in fueling the tropical drink craze, and the mai tai was the crowned jewel. He credits, "[Their] craftsmanship and creativity involved in making these drinks." The mai tai was also the "it" drink for celebrities and socialites of the time.
Ingredients
2 oz Jamaican Rum
1 oz Lime Juice
.5 oz Orange Curaçao
.5 oz Orgeat
.5 oz Simple Syrup
Mint Sprig for garnish
Directions
Shake with ice and strain into a crushed ice-filled tiki or rocks glass. Garnish with a mint sprig.
1970s Harvey Wallbanger
Hedges begrudgingly refers to 1970s as the cocktail's near-death experience. "Drinks like the Tequila Sunrise and Harvey Wallbanger prioritized bright colors and catchy names over balance and flavor," he says. The '70s also saw increased use of pre-made mixes that were full of artificial ingredients that compromised taste and quality. "When a hot new drink of the age is nothing more than a screwdriver with a float of liqueur on top, there's trouble." He explains the Harvey Wallbanger became popular due to a Galliano (an Italian liqueur) ad campaign featuring a cartoon character of the same name, but the cocktail's fame bubble burst and it slunk off into the abyss as quickly as it came.
Ingredients
1.5 oz Vodka
4 oz Orange Juice
.5 oz Galliano
Instructions
Add vodka and orange juice to an ice-filled highball glass and gently stir. Slowly pour the Galliano over the back of a bar spoon held just above the glass to create a layer on top. Garnish with an orange slice.
1980s Piña Colada
A rad, frozen fad, which very well could've been catapulted to stardom by the 1979 hit "Escape (The Piña Colada Song)" by singer Rupert Holmes. "The 1980s were marked by a cultural obsession with all things tropical and glamorous," Hedges points out. "From the popularity of Hawaiian shirts to Miami Vice, the general aesthetic of the era contributed to the piña colada's rise as a symbol of the carefree lifestyle of the '80s."
Ingredients
2 oz White Rum
2 oz Coconut Cream (Coco Lopez)
4 oz Pineapple Juice
Instructions
Combine all ingredients in a blender along with a handful of ice. Blend until smooth and frothy and then pour into a chilled hurricane glass. Garnish with a pineapple wedge and a maraschino cherry.
1990s Long Island Iced Tea
Hedges laments that cocktails hadn't fully recovered from the disastrous '70s, but the 90s "saw a "lot of momentum building" in cocktail culture. "Bartenders like Dale Degroff were creating innovative cocktail programs that simultaneously gave a nod to the mechanics of the late nineteenth-century," he says. He also cites bartenders now making drinks in front of patrons and using fresh lemon and lime juice instead of squirting them from a gun to level-up the quality of cocktails. While higher-quality ingredients were becoming the norm, "younger drinkers seeking a potent buzz," were dominating the cocktail scene, making way for the Long Island Iced Tea to become "king in the '90s."
Ingredients
.5 oz Vodka
.5 oz White Rum
.5 oz Blanco Tequila
.5 oz Gin
.5 oz Triple Sec
1 oz Sour Mix
Top with Coke
Instructions
Add all ingredients except the coke to an ice-filled highball glass and gently stir. Top with coke and give it another gentle stir. Garnish with a lemon wedge.
2000s Cosmopolitan
Contrary to popular belief, Carrie Bradshaw did not invent the Cosmopolitan. It was Toby Cecchini at the famed NYC French bistro Odeon. Hedges does consider Sex and the City to be responsible for making the drink a "feminist icon" and says it is "often considered the catalyst for our current cocktail renaissance."
Ingredients
2 oz Citrus Vodka
.75 oz Cointreau
.75 oz Lime Juice
.5 oz Cranberry Juice
.25 oz Simple Syrup
Orange Twist for garnish
Directions
Shake all ingredients with ice and strain into a cocktail glass. Garnish with an orange twist
2010s Moscow Mule
"You might not know it, but the Moscow Mule is as American as it gets," Hedges says. He refers to the vodka and ginger beer drink's signature copper mug as "a bit of marketing magic" attributed to Connecticut spirits distributor, John G. Martin, who acquired the rights to a Smirnoff in 1939. An influencer ahead of his time, Martin asked bartenders to pose with a bottle of Smirnoff and the copper mug as he traveled around the country trying to sell his spirit. Hedges explains, "Martin snapped two Polaroid photographs: one to leave at the bar, and another to take with him to his next destination — proof of the drink's growing popularity. Decades later, the photos have faded, but the copper mug remains."
Ingredients
2 oz Vodka
.5 oz Lime Juice
4-6 oz Ginger Beer
Instructions
Add all ingredients to an ice-filled copper mule mug or highball glass. Give the mixture a gentle stir and garnish with a lime wedge.
As for the cocktail of the 2020s…we're just going to have to wait and see (although the negroni and espresso martini are both leaving quite an impression thus far).