How Chef Helene An's Culinary Journey Inspired A Family Legacy
From Vietnam refugee to world famous restauranteur.
TZR; Courtesy of Helene An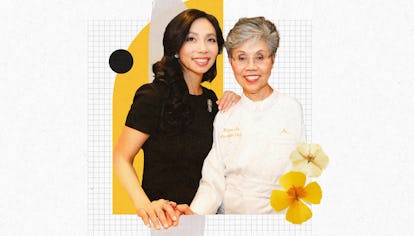 In contemporary culture, chefs can reach rock-star levels of fame and notoriety. When a restaurant becomes popular, you'll likely not only know the name of whoever is at the kitchen's helm but perhaps even what they look like. Television shows like Top Chef, Chef's Table, and No Reservations have made icons out of culinary wizards like Nancy Silverton, Marcus Samuelsson, and, of course, the late Anthony Bourdain. However, this wasn't the case 25 years ago, let alone back in 1975, when Master Chef Helene An began her own culinary career. And nearly five decades later, she has not only created a restaurant empire in the House of An restaurant group (which includes hotspots Crustacean and Thanh Long), but something she considers even more important: a legacy for her children and family.
Despite the fact that chefs have more attention on them these days, it can still be a struggle for women to be as well-respected in their industry as their male counterparts, so one can only imagine how tough it was in the 1970s. Add to that being a woman of color, being an immigrant who didn't even speak English when she set foot in her first kitchen, and taking care of five small children. The odds were certainly against the young chef in those early days, and there's no magic to how she ultimately overcame them. Like so many fellow refugees, she worked hard because she simply had to. "There was no choice. We had to survive," she tells TZR.
Before she was coined the "Mother of Fusion," before the celebrity-frequented restaurants (Lady Gaga, Jennifer Lopez, Viola Davis, and Kendall Jenner are among the A-listers who call Crustacean a favorite), and even before her world-famous garlic noodles came to existence, Helene was the youngest of 17 children and the daughter of a Vietnamese aristocrat. "My grandfather was one of the biggest industrialists at the time in Vietnam, and during that time, business was done around the table," explains Elizabeth An, CEO of House of An and Helene's second-eldest daughter. "In the old days, it was all about how grand your wife could entertain." For Helene's family, this meant catering — literally — to fellow businessmen from not only Vietnam but also China and France. To make their guests feel at home and respected, Helene's father employed chefs specializing in all types of cuisine.
Despite being immersed in a tradition of hosting and dining, Helene is quick to admit that she was not exactly born with a passion for cooking. "Because of my [older siblings], I was lazy and never had to cook," she says. "But I was an observer. My mom said, 'You don't have to cook, but you have to observe. It's good for your knowledge for the future.' Food was always around me. If you didn't cook, you tasted the food. I always sat with my mom and tasted together with her. It helped me to have a lot of ideas."
In fact, Helene didn't consider a culinary career until arriving in the United States after the Fall of Saigon in 1975. This was the second time she was forced to leave behind what her family had worked so hard to achieve. (The first was at the age of 11, when she and her family were forced to flee their home to escape the Communist forces taking over.) "I have to tell you one thing about my country: It's always war," she explains. "Many, many years with the French, with the Chinese. It happened to my family, but I was young and I didn't get to witness that. But later I witnessed that my parents lost everything. All the land, everything they lost in 1955. We didn't have anything. Not a penny. So we had to start from scratch. Then in 1975, we lost again. So we came here with no pennies."
As luck would have it, Helene's mother-in-law, Diana, had purchased an Italian deli in San Francisco's Sunset District a few years prior. So the family of seven — Helene, her husband, their three young daughters (Hannah, Elizabeth, and Monique), and their in-laws — headed to California, where they all moved into a one-bedroom apartment above the deli. Helene — who was learning English and studying accounting in addition to caring for her children — quickly began lending a hand in the kitchen at night. "There were seven people in one bedroom," she tells TZR. "So I said, 'Now it's time for me to be strong, and I cannot be lazy anymore.' I had to stand up strong and work harder so everyone could have a roof. So everyone could stay together and be more comfortable." Once she received her accounting degree, Helene began working three jobs, amounting to 16-hour days. During this time, she also gave birth to two more daughters, Jacky and Catherine.
She may have been happy to do her part to support the family by working nights in the restaurant (and at an accounting office during the day), but Helene wasn't exactly a fan of the existing menu. "I love to eat, but I am very picky," she laughs. "It's very difficult to satisfy me. I don't like too much oil; I don't like too much fat; I don't like too much butter." In addition to her particular palette, she simply didn't have the culinary vocabulary for sandwiches and pastas. So little by little, Helene and Diana began adding their own Vietnamese flair to the menu, but they were careful not to keep it too traditional. She used her customers like focus groups, testing one dish at a time and introducing her native country's flavors to foreign palettes. One day fresh herb-filled spring rolls, the next roasted crab, until the menu was totally transformed into a fusion of Vietnamese flavors and Italian sensibility: Think steamed sea bass with a ginger, scallion, and citrus infusion; broiled mussels with Asian pesto; and shaken beef tossed with red wine and served with potatoes.
However, her most-beloved dish to this day was created as the chef's answer to Americans' obsession with pasta. "I noticed that when I came and worked at the office, every day they brought pasta, and I would get home and think 'Why does everybody love pasta?'" she shares. "I don't like cream; I don't like anything heavy in my body. Because of Eastern medicine, I know that garlic is good for everybody. This is the reason why garlic noodles were born." The response to such dishes quickly made the deli — now renamed Thanh Long — a hit in the neighborhood and beyond, with fans lined up in the cold, windy Bay Area weather to get their fill.
"After I made the garlic noodles, we became very busy," Helene explains. "We went from 20 seats to 60 seats and to 80 seats. We didn't have enough [space] for the customers. [Elizabeth] told me, 'You have to open another one.'" At the time, Helene's daughter worked as a buyer on San Francisco's fashionable Sutter Street. During her after-work happy hours with the city's stylish crowd, she noticed a gap in the market for a restaurant that offered decor as chic as the food was delicious, and this became the concept for Crustacean's first location in 1991.
Trusting her daughter's vision, Helene took a leap by spending $99,000 for a third-floor spot in an off-the-beaten-path neighborhood, which was more affordable than the Tenderloin District, a more popular dining area where traditional Vietnamese restaurants were located. The opening was not as smooth as they'd hoped due to a less-than-stellar review in a local paper. "No one really knew or claimed 'fusion,'" Elizabeth elaborates. "Mom really cooked what she loved, which is a little bit apart from true traditional Vietnamese cooking. The writer at the time gave it a horrible review, saying 'This is not Vietnamese food.' I was really offended! I was like, we're much more than that. So we had a bit of a struggle in the beginning. At that time a writer could make or break you, and so the restaurant was empty."
Using the resourcefulness and determination she'd learned from her mother, Elizabeth took an ad out in the paper, publishing the negative review alongside a positive one, daring customers to come in and see for themselves. And it paid off. "The phone started ringing, and I think people were interested and challenged and amused," Elizabeth says. The restaurant became so popular, in fact, that soon enough customers were flying in; many of them were based in Beverly Hills, and they urged the Ans to open a location there.
Five years and many permits later, the Beverly Hills location opened — this time on a $1.5 million budget. The space took over two floors of a yet unpopulated corner of the city. A risk? Maybe, but Elizabeth attributes her mother's bold decision making to her survivalist mentality. "I don't think [we took risks] because we were not afraid; it was because we had no choice," she says. "It's all or nothing. It would have cost us everything."
Over a quarter of a century later, Thanh Long and both Crustacean locations are not only still standing, but the Ans' empire continues expanding. Even a global pandemic couldn't keep them down. Chef Helene's famously "Secret Kitchen" meant that takeout had been off-limits in the past — despite pleading from the celebrity garlic-noodle lovers. Thankfully, the next generation of Ans stepped in to help. Helene's granddaughter (Elizabeth's daughter) Bosilika brought in her social media savvy to introduce Noods, a Gen-Z-friendly takeout alternative which consisted of bento-style boxes including noddles, protein, veggies, and salad. This separate concept allowed Crustacean to preserve the integrity of its dine-in dishes, while supplying a demand for takeout.
About that family dynasty. Helene admits that in the early days, she had hopes of being able to send all her daughters to good schools so they could have less physically and emotionally demanding jobs than she had. "I wanted my children to be able to survive for themselves; I didn't want them involved in the restaurant business because it's so difficult," she explains. The family business formed regardless — not out of pressure from Helene, but because they were inspired by the legacy she had created and the encouragement she gave them to become whoever they wanted.
"What is great about my mom is that she has the insight of knowing when to have control and when to release control and when to give us a chance, and that's very special," Elizabeth says. "I can't do that! My children tell me I'm overbearing, but I'm learning as I get older that each generation has something to offer, and I think that's what mom always taught me. The best joy in life is when your children can be better than you. And she looks forward to me adding another level to our family business, and I should be thrilled when my children add another level. Serendipity has now gone to the fourth generation."
Despite her initial opposition to the idea, Helene now says her family's involvement in the business is the accomplishment she's most proud of. "When my daughters could get into a good college, and then all of them came back to help me — then I could say, 'OK, I feel a little bit successful,'" she tells TZR. And her daughters look with admiration right back. "Mom's incredible," Elizabeth says proudly. And there's a legion of garlic-noodle lovers across the world who share this sentiment — not only because of her contribution to the culinary world, but for her inspiring story, which embodies the American dream. Her recipes, however? Those will stay a family secret.