Yes, You Can Do Budapest In 3 Days — Here's How I Did It
Maximize your time in this historic city.
Shutterstock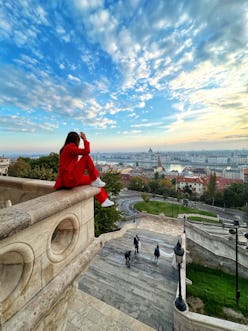 When my original plans fell through, and I found myself traveling alone to Budapest, I felt nervous about solo traveling to Hungary, especially during the holidays. Would I be able to communicate? Would people be friendly? What If I got lost or lonely? But once there, I found a beautiful international city with elegance and history juxtaposed with grit and edginess.
Budapest, in the wintertime, is extraordinary, with its Christmas markets right out of a Hallmark movie filled with families, couples, and tourists enjoying each other's company under festive lights while sipping mulled wine and holiday shopping. When visiting, first decide if you want to stay in Buda (a family-friendly part of the city) or on the other side of the Danube River, Pest, with exciting nightlife and great shopping. Then, the world is your oyster. Yes, even if your time is limited (as was the case for me), there is so much to do and take in. This is especially true in the winter, when the city truly comes alive with a special kind of magic.
For those planning their 2023 travels, ahead, a guide to three days in Budapest, where I explored breathtaking art nouveau, secessionist architecture, the city's rich history, and world-class Hungarian cuisine. Take notes for your next European getaway.
Where to Stay
Matild Palace
When I arrived, I took a 20-minute cab ride to Pest, and stayed at the gorgeous Matild Palace. Its history dates back over 120 years, and after a significant renovation, the hotel reopened its doors last June. The stunning architecture is listed as a UNESCO World Heritage site. Enjoy spacious rooms with high-vaulted ceilings, encapsulating Old World charm with contemporary gold and marble accents. The deep blue tile backdrop of the bathroom tubs will remind you of your own personal bathhouse. What I loved about staying here, besides the luxurious room, was its location. I could saunter along the Danube River or walk right to the heart of downtown, where a buffet of activities exist, including shopping, museums, and exciting restaurants.
Four Seasons: Gresham Palace
I also stayed at the Four Seasons Gresham Palace, located within Budapest's art, business, and entertainment center. For those into architecture, this Four Seasons is acclaimed as one of the world's finest Art Nouveau buildings. The elegant and refined design is breathtaking, and the rooms are expansive, with views of the Danube River and the famous Chain Bridge. Although putting on a robe and taking a bath sounded delightful, there was much more exploring to do. I walked to the middle of the lobby and sat at a luxury cocktail bar where business execs and well-dressed locals hang out. On Fridays, the bar is packed with customers who come to enjoy late-night live music while sipping on craft cocktails.
Cultural
Gellért Baths
Budapest is known as the "city of baths," with over a dozen baths and 123 hot springs. With some dating back to the 16th century, Gellért Bath is among the most popular baths where tourists and locals go to relax. Its Roman columns and beautiful mosaics overlook the thermal pool, and it's quite the experience with guests of all ages relishing in the pools. Make sure to bring your towel and flip-flops, or you'll have to purchase some at the venue. If I visited again, I'd prefer to book a small, private thermal bath for a little more privacy and relaxation. Afterward, I headed for the second-floor restaurant to relax with a glass of bubbles and to plan my next exploration.
Christmas Markets
While planning your Budapest trip, consider booking at the end of November or during December. Budapest's Christmas markets look like something out of a holiday fairytale. The city lights up at night like a life-size version of a Lite Bright board game. St. Stephen's Basilica and Vörösmarty Square are the two most famous Christmas markets. Food stands feature hot dogs the size of your arm, crispy potato pancakes lathered in cheese and sour cream, among stewed meats served in bread bowls. With the nutmeg smell of mulled wine and cinnamon sugar chimney cakes (a hollow funnel cake type dessert), you'll feel like a kid again in search of what to try next. Shop at stalls filled with artisanal trinkets like tree ornaments, handmade wooden toys, and Budapest souvenirs.
St. Stephen's Basilica
St. Stephen's Basilica is the most famous church in Budapest and one of the town's highest buildings. Walk around the corner from the church, and buy two tickets: one for the church and one for the top to get a 360-degree view of the city. Make sure to purchase the tickets ahead of time because the lines can get hectic. If you go at the end of the year, the St. Stephen's Basilica Christmas market is right out front.
Food & Sips
Spago
The fine-dining restaurant I was most curious about was the legendary Wolfgang Puck's Spago. Living in Los Angeles, I've dined at the Beverly Hills location several times and wondered how it would measure up. It is just as elegant, yet Budapest Spago has a clean, more modern feel, whereas Beverly Hills is more classic, but both mirror white tablecloth sophistication. I found steak tartare on most Hungarian menus, and this one was the best, with a delicious sabayon (a creamy egg yolk sauce) to douse it in. The Budapest Spago has many classics, like the beloved Smoked Salmon Pizza, but the Beverly Hills menu seems to change more often. For an authentic Hungarian dish, the Braised Beef Cheek steals the show. The tender meat falls apart and melts in your mouth, and it's served with root vegetables, bread dumplings, and pickled vegetables. Wolfgang Puck served this dish at the Oscars After Party as an homage to Hungary.
Taste Hungary
If Hungarian wine piques your interest, a food and wine tasting produced by Taste Hungary was one of my favorite experiences. With 22 wine regions and only 20% of Hungarian wine being exported, there's a lot to learn. I headed to the wine cellar, where sommelier Jon welcomed me as I was befriended by three Norwegian women on vacation, making the night more fun and less lonely. We tasted eight Hungarian wines — bubbles to start, three whites, three reds, and a sweet dessert variety to end the evening. In addition, local cheeses and meats were served. My favorite of the tasting was the crisp and tropical sparkling wine and, luckily, I found many similar options on restaurant menus. If you're interested in Hungarian wines, Taste Hungary has a wine club you can sign up for and get bottles shipped straight to your home.
Matild Café & Cabaret
A reservation at the Matild Cafe & Cabaret at Matild Palace should be at the top of your list. Matild Café & Cabaret first opened as the historical "Belvárosi Kávéház.'' The two-story, 300-seater café has more than 120 years of history behind it. In the early 1900s, during the Belle Epoque era, it became a social hub for prominent public figures, journalists, writers, and artists. Now, the cabaret show is one of the hottest tickets in town. Enjoy a three-course meal and some Hungarian bubbly while you marvel at the talented women who perform an impressive act. The entertainment is packed with show tunes like Beauty & The Beast's "Be Your Guest" to dancers turning up the heat with hot dances like the Brazilian samba.
KOLLÁSZ
At The Four Seasons, you'll want to make a reservation at KOLLÁSZ, an upscale brasserie and bar. I felt I was back in Paris with its chic decor and jewel tones, but the menu featured French food with Hungarian influences. I started with oysters and Champagne from France. After I had cleansed my palate with briny oysters, I switched back to Hungarian cuisine. The dish to order here is the Spicy Octopus and Seared Scallop. Imagine a thinly sliced potato layered like lasagna filled with paprika and Hungarian sausage, with tender octopus on top, kissing a spicy paprika sauce with plump seared scallops on the side.
Szimpla Kert
After World War II, the Jewish quarter in Budapest was in ruins with many dilapidated buildings. Fast forward to now, these dilapidated buildings have turned into romkocsma, ruin bars. The most famous is Szimpla Kert. Szimpla Kert was an old residential building that was saved, and many rooms you enter feature bars with graffiti, and stickers on exposed brick, obscure art, disco balls, red twinkle lights, funky furniture, and exposed pipes. It's a drink lover's dream with affordable beverages and a great place to make new friends. It felt like I was in an H.G. Wells book, set in the past, bringing the new and the old together in one place.
A La Gringa
When I travel, I try to immerse myself completely in the city's culture and food scene. But after a while, I started craving food from where I'm from, and Budapest's international culinary scene made things easy. For me, it was a Brazilian restaurant in the heart of town called A La Gringa. Its bright and colorful ambiance was as welcoming and warm as Brazilians. The owner, 29-year-old, Marissa Reisman, greeted me, and she felt like a long-lost friend. After chatting about how she ended up in Hungary, I ordered a passion fruit caipirinha, and I felt right at home. Start with the classics like pão de queijo (cheese bread) or esfija, which packs shredded creamy chicken in a pastry puff similar to an empanada but lighter. I needed a break from the meat-heavy Hungarian fare, so I ordered the Moqueca, an aromatic seafood stew with aromatic spices and a splash of coconut milk. I felt renewed and ready for my next Budapest adventure. If you're looking for comforting American food like hamburgers and fries, you could head to the most beautiful Mcdonald's in the world, which resides in Budapest.
Nancsi Neni
Off the beaten path is Nancsi Neni residing 20 minutes outside of Budapest. If you ask a local where to go, Náncsi Néni is on top of the list. As soon as I walked in, it reminded me of grandmother's home. With the warm wood interior, pickled vegetable jars (with smiley faces) on display, red and white checkered tablecloths on every table, and Hungarian families eating together, I knew I had found an authentic place. Many dishes incorporate a lot of sour cream and paprika; if you didn't know, Hungary is one of the top producers of the red spice. Locals told me I had to try turogomboc, a savory and sweet pasta. It was like a circular cheese dumpling dusted with graham cracker crumbs and drenched in a sweet, sour cream sauce reminiscent of a slightly savory cheesecake. If you're into sweet and salty, you may enjoy it. For those less adventurous, try the breaded Hungarian sturgeon with veggies and buttered potatoes as sides, a nice contrast from the turogomboc.