Breakfast Wines Are Indeed A Thing
The most important meal of the day gets a grape makeover.
PhotoAlto/Gabriel Sanchez/PhotoAlto Agency RF Collections/Getty Images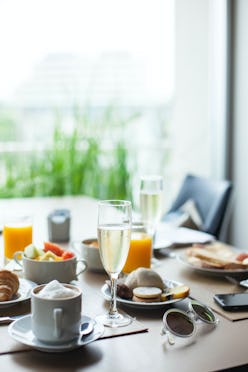 We may receive a portion of sales if you purchase a product through a link in this article.
Wake up and smell the… wine? Yep! Breakfast vino is indeed a thing. While coffee provides that oh-so-necessary morning dose of energy Monday through Friday, on the weekend or vacation it's nice to indulge in a pre-noon sip and to savor a beverage that inspires leisure and relaxation. Forget the breakfast cocktails you know, like the mimosa, bellini, and bloody Mary. Breakfast wine shines all on its own.
First things first, this category doesn't include new varietals or specific types of wine. Instead it refers to those that pair nicely with your morning meal. So, what makes a wine suitable for breakfast enjoyment? Sally Nightingale, senior winemaker at SALDO first recommends choosing a lighter style as it "tends to be more appealing for not only the types of dishes being consumed at breakfast but also for the time of day."
Osmosis Winery and Vineyard owner, Patricia Ortiz, seconds this notion, adding that these lighter-body wines "[help] to ease you into the day." Another key to selecting a breakfast wine, she says, is to be mindful of the alcohol content. "You do not want to start your day with a wine that is too high in alcohol, or you can run the risk of kickstarting your day dehydrated."
On that note, Nightingale suggests avoiding "big tannic, high alcohol red wines" as they can send you into a wine-induced nap later in the day. But this doesn't mean your options are limited. "The list of 'lighter' style wines is long and diverse, so there is something for everyone," Nightingale insists.
According to Ortiz, there are, "two styles that are best suited for breakfast." The first is a light rosé. Not to bring the "Rosé all day" trope to life, but it's best for an empty stomach as it doesn't contain any sharp acidity. Her second recommendation is sauvignon blanc, especially for those who intend to pair their glass of vino with a plate of food. "Thanks to the zesty and citrusy notes a Sauvignon Blanc pairs well with several breakfast favorites," she says. For example, it goes nicely with avocado toast. "[It] adds the necessary acidity, comparable to a lemon squeezed on your palate; it will cut through the creaminess of the avocado, [bringing] the perfect balance to your savory breakfast," she explains. Ortiz also adds that sauvignon blanc also pairs well with herb-infused omelets (because of the herbal notes in the wine), and the acidity also makes it a perfect beverage to accompany dishes like eggs Benedict, lemon ricotta crepes, and breakfast burritos.
For Nightingale, she's partial to another varietal of white wine in the AM, chenin blanc, as it's "bright and lively" and can "handle a cheese soufflé or smoked salmon bagel."
We'd be remiss not to mention the benefits of a bottle of bubbly for breakfast. Whether you reach for Champagne, sparkling wine, Prosecco, or Cava, the light, effervescent, aromatic is a fizzy treat to add to your morning feast. It's also a luxurious way to start the day for any special occasion and its versatility allows it to be paired with everything from pastries to quiche.
Breakfast Wine Rules Of Thumb
When selecting a wine to serve with breakfast, our experts have some more tips to help make sure your beverage is a vibe. While it's best not to judge a book by its cover, it's ok to judge a wine by its label. "The label can tell you a lot," Nightingale says. "Alcohol content can help indicate how 'big' the wine might be. Also reference tasting notes on the back label that might indicate something about the wine's flavor profile and winemaking inputs. For instance, if it's oaked or not oaked, sweet, or dry," she shares. On some labels, these indicator words might also appear as "Brut" or "Extra Brut."
The label also provides useful information to Ortiz's earlier point about avoiding a wine-induced headache. "Look for low alcohol and low sugar labels when you are picking a breakfast wine," she points out. Low-alcohol wine is also a great option if you haven't set a menu plan for breakfast. "A light rosé can be versatile for what ever you end up cooking for breakfast," Ortiz shares. "If you take the time to menu plan, you can do some research and make a selection based on what you are going to serve."
Nightingale seconds this advice about the versatility of rosé, adding, "They can match with lighter dishes but can also hold their own when flavors are a little bolder," she says. But the most important thing is to not be afraid to experiment and enjoy your morning. "Don't overcomplicate it," Nightingale says. "Have fun with different pairings and think outside of the box for new flavor sensations that might just become your new go-to."
Uncork a magical morning and toast to the day with these expert-approved breakfast wines ahead.